Trade Shows Nationwide: We're Your AV Partner
October 5, 2022
/
/
Comments Off

on Trade Shows Nationwide: We're Your AV Partner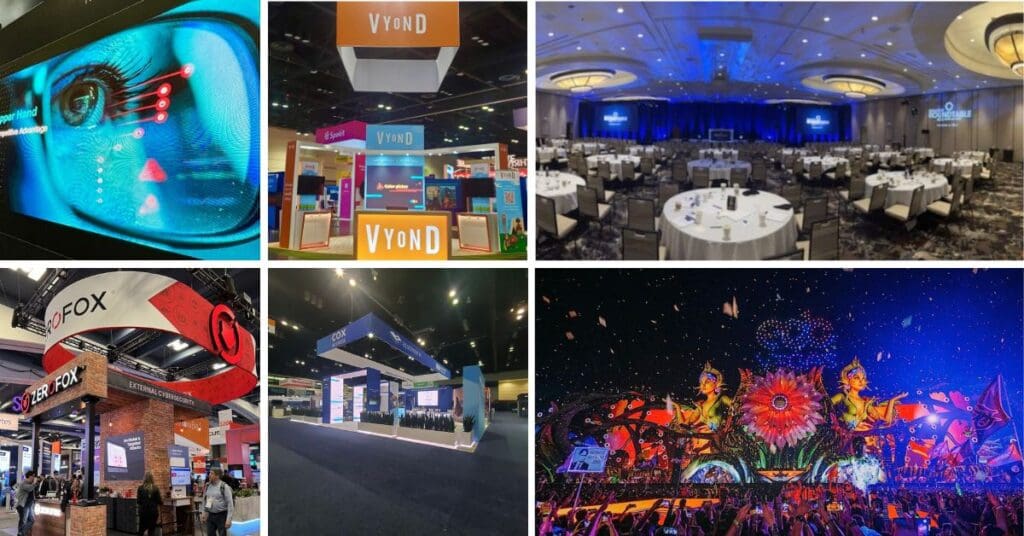 Total Show Technology provides AV production support for trade shows nationwide: Los Angeles, Austin, Orlando, and throughout the Pacific Southwest.
In addition to supporting lots of big shows in Las Vegas, the TST team travels around the country to support client conferences and trade shows nationwide, including Actifio in Boston; HIMSS, HITEC, and ATD in Orlando; South by Southwest (SXSW) and Dell Match Play in Austin, Texas; RSA in San Francisco; and Anime Expo in Los Angeles.
Our clients appreciate our advanced event technologies, continuity of staffing support, above-and-beyond service, and ideas for wowing their audience and optimizing their budget.
AV Production Support at Trade Shows Nationwide
To give you an idea of how we can help you with your next trade show, conference, or nightclub live event, we thought we would share some examples of the AV production technology, support, and staffing we've provided.
Pre-Planning: The shows we support must meet exacting requirements and require big picture planning. Technology specs, space considerations, layout and design, and corporate branding all have to be on point and meet all client expectations. We also map out and cost out multiple design possibilities each year.
Collaborative Exhibit Setup: On the trade show or exhibit floor, you want to clearly communicate your company's brand. We understand exhibit technology needs better than any other AV provider in the industry. Everything changes when you're in an exhibit hall, including freight access, load-in timing, and even labor and union regulations. We can help you navigate this challenging landscape so you stand out from the crowd on your next show floor.
Space Management: Exhibitors often pay for exhibit space by the square foot, so we make sure every element of the design has as much impact as possible within a limited space.
Technology Expertise: We handle video, audio, and LED wall design and installation in space-constrained, fast-paced, multilingual environments. Our team customizes our equipment inventory for each client meeting and event using in-house technology and sourced equipment from our trusted partners nationwide.
Labor Management: We make sure we understand the local labor situation and manage labor costing, scheduling, and coordination.
Technical Direction: A dedicated TST technical director helps manage all the moving parts of many of demanding experiential event tech experiences.
Indoor/Outdoor Experiences: TST can help build high-traffic, fast-moving indoor/outdoor experiences. The combination of indoor and outdoor elements greatly increases the complexity — and value — of show production. Show elements can include a lounge and performance stage, musical acts (including a national touring act), live and virtual reality DJs, and 3D displays.
By choosing an audiovisual production partner that travels with them, our clients save time and money and make sure no detail slips through the cracks. The savings comes from not having to start from scratch with every show. We ship small, costly items while regularly sourcing equipment and staffing support from proven partners nationwide. And because we know the ins and outs of our clients' shows, we are able to make sure they always have the expertise, staffing, and technology they need.
Let's Make Your Next Show a Standout!
TST is the total show production solution for anyone who hosts, plans, manages, or produces trade shows, conferences, and nightclub live events. Our production capabilities include audiovisual design, setup, staffing, and operation. Our services include video, audio, lighting, staging, computer services, AV gear and laptop rentals, and labor sourcing.
In the ever-changing event industry, what you know and who you know are everything. We know the South, the Pacific Southwest, and all the venues in Las Vegas inside and out. In an industry where almost anything can go wrong, we make sure everything goes right.