SXSW Tech and Audio Visual Production Support
April 1, 2019
/
/
Comments Off

on SXSW Tech and Audio Visual Production Support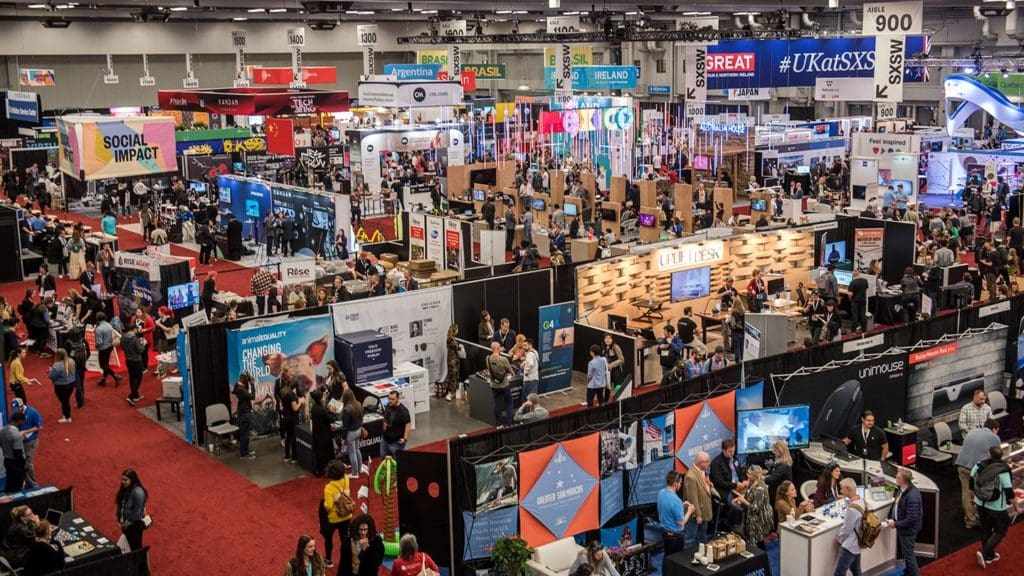 TST recently provided audiovisual production for a Fortune 50 tech company at SXSW to support their large-scale experiential tech event.
---
Total Show Technology (TST) recently provided audio visual production for a global technology company at South by Southwest (SXSW), which ran from March 8-18, 2019, in Austin, Texas. It was our fourth straight year of collaboration with the Fortune 50 multinational corporation to support their large-scale experiential SXSW tech event.
The client's aim is to give attendees a firsthand look at the latest tech innovations, enabling them to learn about groundbreaking developments in the industry. As part of this annual SXSW tech experience, TST sets up indoor and outdoor stages, leads video and audio efforts, and works side by side with our client, SXSW teams, production companies, broadcast teams, and other partners, vendors, and sponsors.
With so many variables, we have to join forces with the entire SXSW tech team to find strategic solutions, stay on schedule, and manage rapidly evolving requirements.
SXSW Tech and Audio Visual Production Support
Highlights of TST's SXSW tech and experiential support include the following:
Pre-Planning: The show must meet exacting requirements and requires big picture planning. Technology specs, space considerations, layout and design, and corporate branding all have to be on point and meet all SXSW and client expectations. For example, it takes an entire day to simply map out the power plan in this complex environment, and SXSW tech setup must address extensive venue and jurisdictional restrictions.
Space Management: Limited accessibility makes it challenging to outfit the space-constrained area. A further complication is the fact that backstage space for building support structures is limited. Management of every detail is key.
Indoor/Outdoor Experience: TST helps build a high-traffic, fast-moving indoor/outdoor experience inside SXSW. The combination of indoor and outdoor elements greatly increases the complexity of show production. Show elements include a lounge and performance stage, musical acts (including a national touring act), live and virtual reality DJs, and 3D displays.
Technical Direction: A dedicated TST technical director helps manage all the moving parts of this demanding experiential event SXSW tech experience.
Technology Customization: Our team customizes our equipment inventory for each client meeting and event at SXSW, using only client technology.
Corporate and Experiential Event Support Nationwide
In addition to providing SXSW tech support for this global corporate client, TST also provides audiovisual and event production support for the company at multiple executive-level and experiential events around the country. As a trusted partner, we handle total show production and audiovisual services for their annual C-level summit in Austin and travel with them to handle audiovisual support for executive symposiums nationwide.
The common theme for all of this client's high-profile events – the stakes are high, and everything has to go like clockwork. Nothing can slip through the cracks.
Why Total Show Technology?
TST is the total show production solution for anyone who hosts, plans, manages, or produces events, meetings, and trade shows. We own the Pacific Southwest market and travel with our clients all across the country. Our clients have relied on us to deliver audio, video, lighting, equipment rental, and show production for conventions, corporate meetings and events, and trade shows since 1996.
Whether you're looking for audio visual support or advanced event technologies that enable you to deliver your message effectively, we help your shows go off without a hitch and always make you look good. In an industry where almost anything can go wrong, we make sure everything goes right.
Let's have a conversation! Call us at 702-897-8508, email us at sales@totalshowtech.com, or visit www.totalshowtech.com/contact.