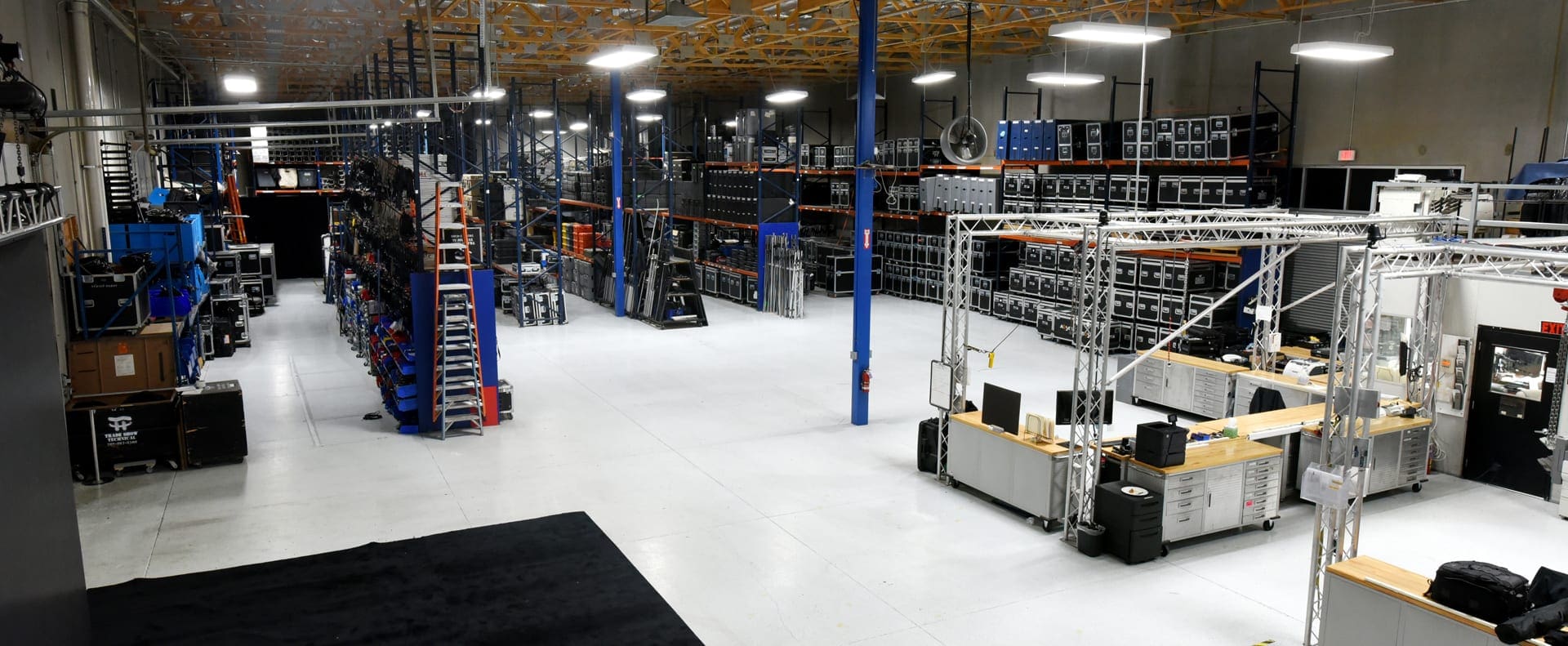 Dedicated to Service Above All Else
Anyone can rent out AV equipment. What sets Total Show Technology apart from our competitors is our industry expertise and our dedication to unparalleled customer service. Our top priority is serving you and the needs of your trade show, corporate meeting, or event production. To achieve the highest level of AV service, we have built a comprehensive equipment inventory and train our staff to go above and beyond the call of duty. Our reputation and commitment to service will help ensure your events are a resounding success.
Trade Shows and Exhibits
On the trade show or exhibit floor, you want to clearly communicate your company's brand. We understand exhibit technology needs better than any other AV provider in the industry. Everything changes when you're in an exhibit hall, including freight access, load-in timing, and even labor and union regulations. We can help you navigate this challenging landscape so you stand out from the crowd on your next show floor.

General Sessions
You're representing your brand to your employees, current customers, or prospective customers. This is your chance to shine. Don't miss out on the opportunity to deliver your message more clearly and effectively than ever before. Whether you need to dazzle attendees with amazing audio-visual production or simply ensure that your presenters have all the resources they need, TST is here to help. We've the go to resource for audio visual production in Las Vegas and throughout the Pacific Southwest. You can relax knowing that TST's expert team is by your side.

Meeting Room Support
Educational sessions, breakouts, training rooms, speaker-ready rooms, and other types of gatherings each need their own special touch. Our technicians are available to help. With a fleet of rental equipment specifically dedicated to these smaller, more specialized setups, we're ready to handle the workload and equipment quantities that these smaller rooms may require.

Special Event and Support Services
Is your event taking place at poolside? No problem. No power for a mile? We can handle that. No matter how out of the ordinary your event might be, we will find a way to make it happen. You've got to think outside of the box to make your special events shine, and we're ready to tackle the challenges with you. We have long-standing relationships with nearly all major night and day clubs in Las Vegas and throughout the Pacific Southwest. We can support your production needs in even the most unconventional of spaces. (In fact, the odds are we were just there last week!)
"I'm writing to thank you for all your effort directed toward NASCAR weekend at Las Vegas Motor Speedway. Your dedication to providing the best possible service in audio-visual equipment and installation was critical to the success of our event. Our VIP hospitality clients are very important to us, and your service is greatly appreciated. We at Las Vegas Motor Speedway are fortunate to have the entire Total Show Technology staff as a valuable partner for NASCAR weekend and year-round. Please don't hesitate to call on me for anything you need."
- Las Vegas Motor Speedway
" We've had a long-standing relationship with Total Show Technology (TST) since 2009. We can count on TST to deliver a higher-level of AV service for our conference rooms, general session and exhibits that enhances our entire show experience. "
- Kirstin Lewis, Vice President, Event Operations, Questex LLC, Nightclub & Bar Convention and Trade Show
" We were looking for an AV company for our SuperZoo Trade Show, I chose Total Show Technology because their prices were among the best, they worked within my budget, and they are open and friendly to work with. "
- Kathy Branson, Director of Trade Shows
"We feel we can trust TST, they are the preferred supplier for EFI. TST is more responsive than some of the other AV companies. When there is a problem, they show up quickly, ready to identify the issue and get things back on track. "
- Monica Haskin-Savage, Sales Manager
" I work with TST because the service is unbelievable. When I call, email or text I get fast responses, I always say I only want to go through TST. "
- Jill Waite, Account Director at Derse
" TST is our preferred vendor at Steelhead Productions. The TST staff is more like a partner to us, not to mention, their response time is awesome. "
- Michelle Hilton, Estimator/Project Manager at Steelhead Productions