We'll deliver your event vision
with precision and stunning quality.
Total Show Technology has the skills, experience and AV equipment to support your vision with the highest levels of quality and professionalism. Our full-time AV technicians are highly trained in the setup and use of our constantly expanding AV rental inventory to give you the most reliable and professional AV production service and results. But don't just take our word for it. View our work below, and read what our clients have to say about us.
Our LED video wall delivered continuously changing content, allowing Accuray to respond on-the-fly to attendees' feedback. Intelligent lighting created both a mellow mood and some serious color at the booth.
Attendees' focus was drawn from afar to not only the booth space, but also to the event content message being delivered, announcing new products and innovations from Accuray.
Total Show Technology handled the AV technical schematics for this space, as well as video and lighting elements for this event production.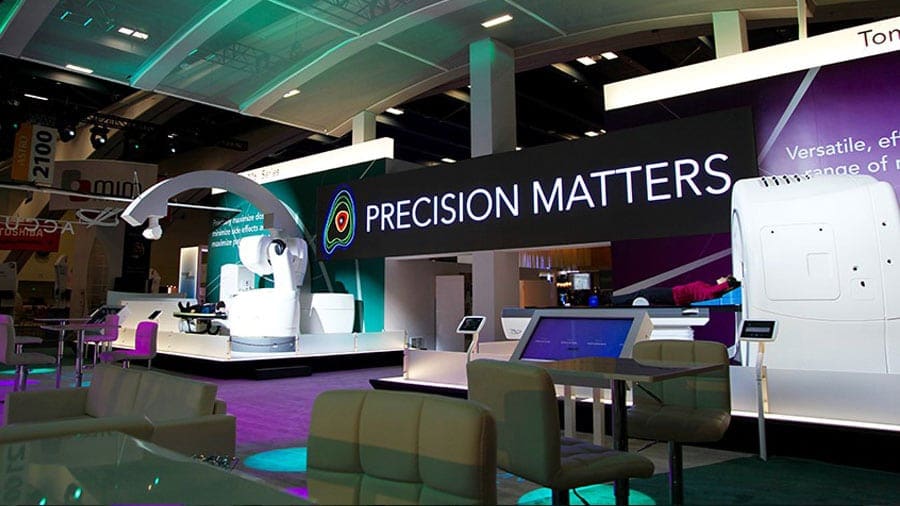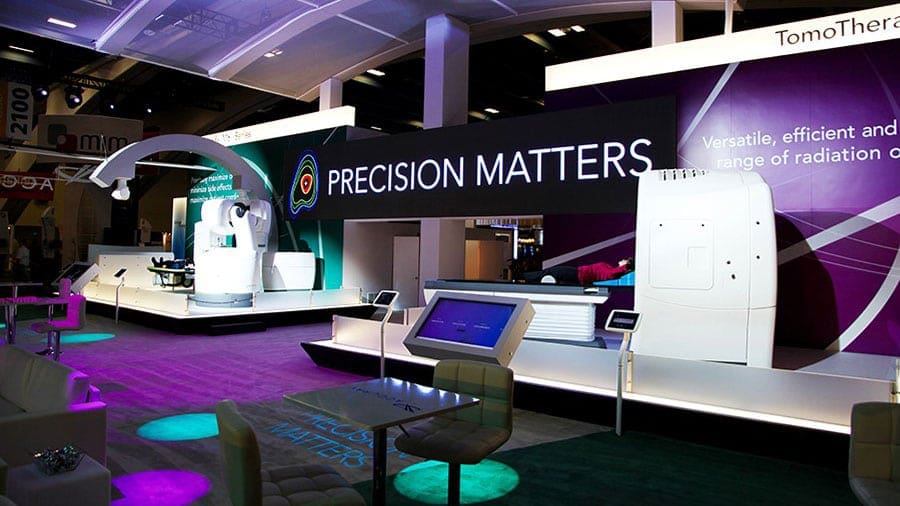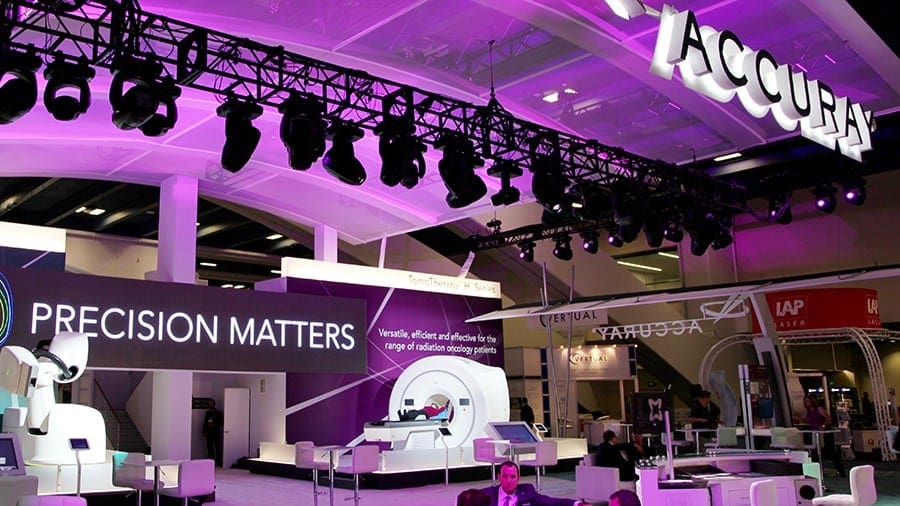 Total Show Technology continues our relationship with Nightclub and Bar into its second decade, and our collaboration is a great example of creative partnership. On this particular event Total Show Technology approached our client with a new creative concept, drastically different from years past. A 20' wide 5.2mm LED video wall display acts as a center focal point.
It takes quite a bit of horsepower from projection to compete with the direct-view brightness of LED video wall. To do this, Total Show Technology turned to our fleet of Titan Quad projector rentals. Double stacked 20K's on 11x20 outboard screens gave sufficient pop to really add a spark to this room. Coolux Pandora's Box media servers control all the action and allow on-the-fly changes.
Total Show Technology handled all the pre-production for this event production as well. All AV technical schematics and AV drawings were handled in-house, along with the AV creative concept. Total Show Technology provided AV/video audio, and lighting elements for this spectacular event.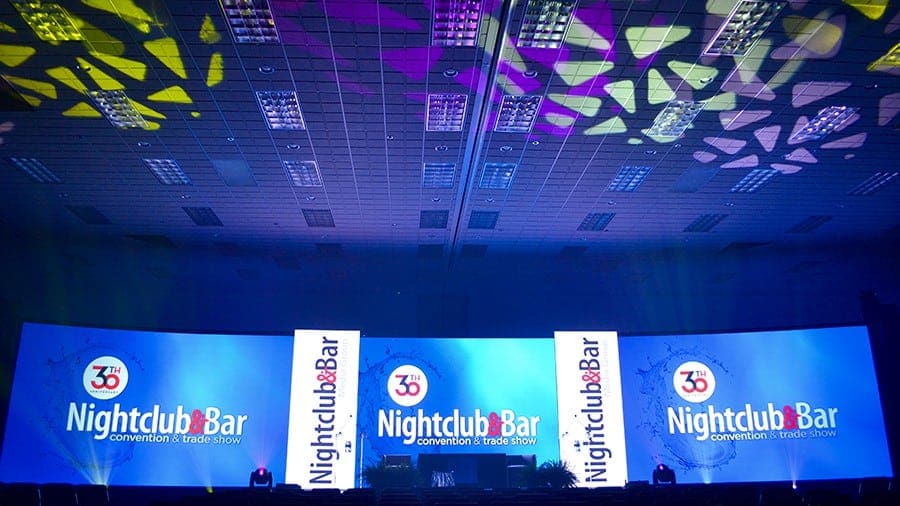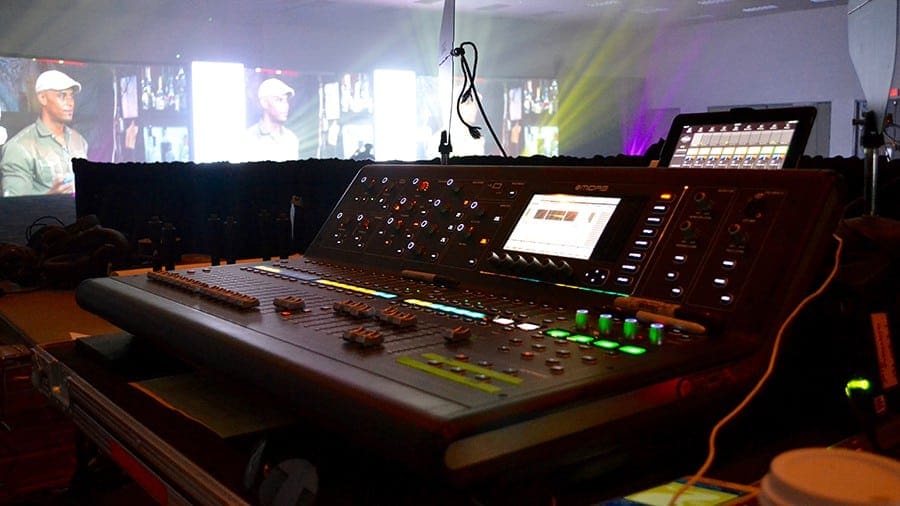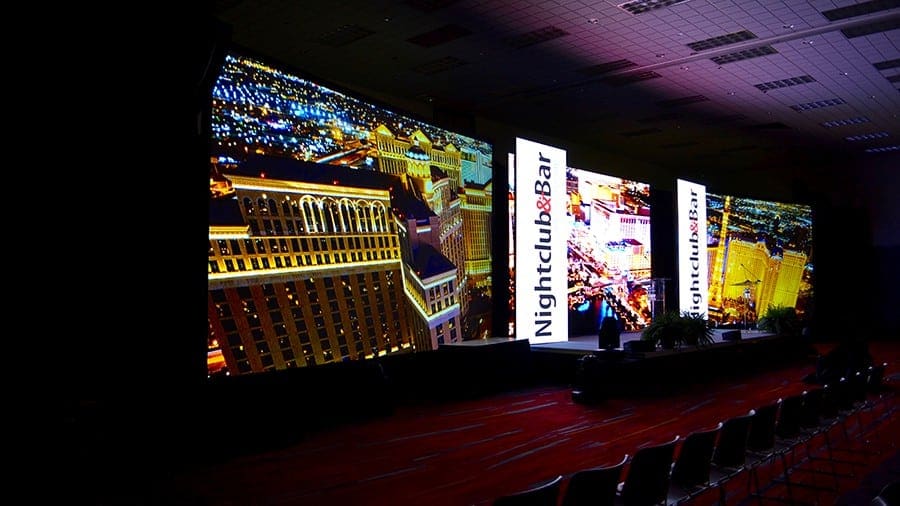 Supporting a show for live-event professionals could seem to be a daunting task. When Total Show Technology, formerly Trade Show Technical, was originally brought on board for this project, our client was planning to use flat-panel monitors for their education sessions. Total Show Technology was able to work closely with the show's event producers to determine an alternative solution, which allowed larger images while still maintaining the relative brightness above the show floor's ambient light levels.
In addition to four separate LED video wall displays in each of the education sessions, Total Show Technology implemented an innovative solution for attendee traffic between education sessions. Each attendee was given a belt-pack receiver and earbuds, which they were able to take with them from session to session, only receiving presentation material for the room that they were in. This was all done without requiring the attendee to push any buttons or change channels, and this was accomplished with no radio-frequency interference worries. What's more, the earbuds were sponsor-branded, which allowed our client to offset the costs of the event.
The 5.2mm displays weren't the only Total Show Technology LED video wall products on the show floor, we also showcased our new 3.9mm LED video wall during an education session at which Total Show Technology spoke about properly using this new technology in modern events.
Total Show Technology provided AV/audio video and lighting elements for this event.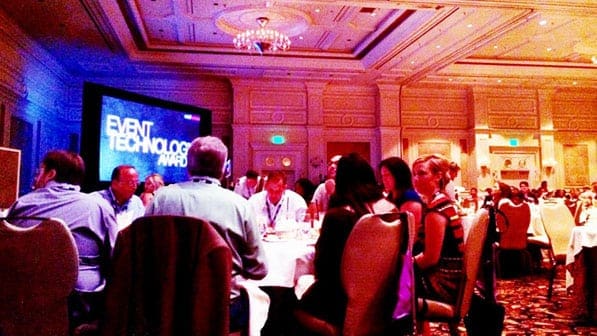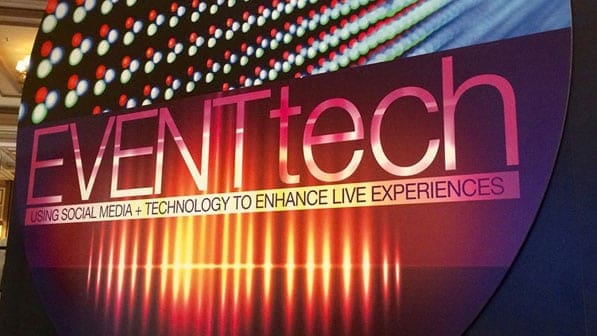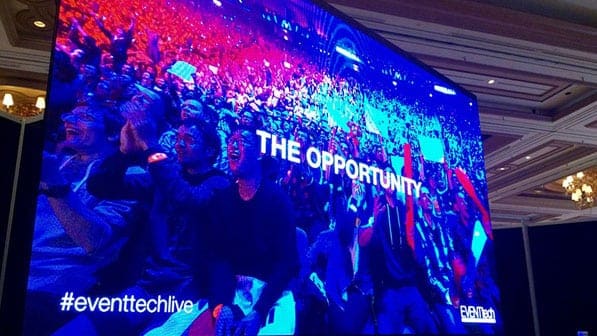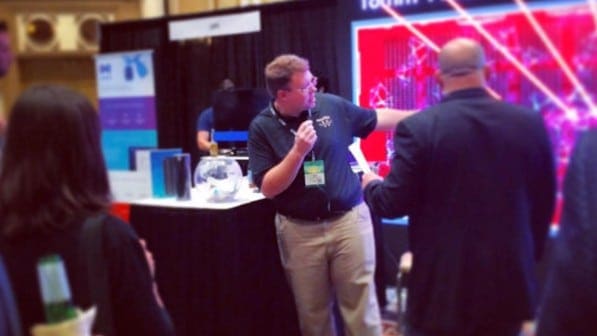 When the Sportsman Channel contacted Total Show Technology, they had a very specific request: to show their content, in HD quality, at light levels and sizes that would be visible above and beyond the cluttered floor of the Shooting, Hunting and Outdoors Tradeshow (SHOT). To meet this need, Total Show Technology used X464 edgeless displays. Built with the expo and corporate market in mind, these displays ride the dividing line between LED video wall tile displays and conventional flat panels, providing the benefits of each
Total Show Technology's X464 edgeless displays provide the image size of LED tiles and the pixel density of flat panels, all at a price point that's not only comfortable, but also very scalable for different types of venues and events. Total Show Technology can add or remove monitors based on both budgetary concerns and event production needs.
Total Show Technology provided the video elements for this event.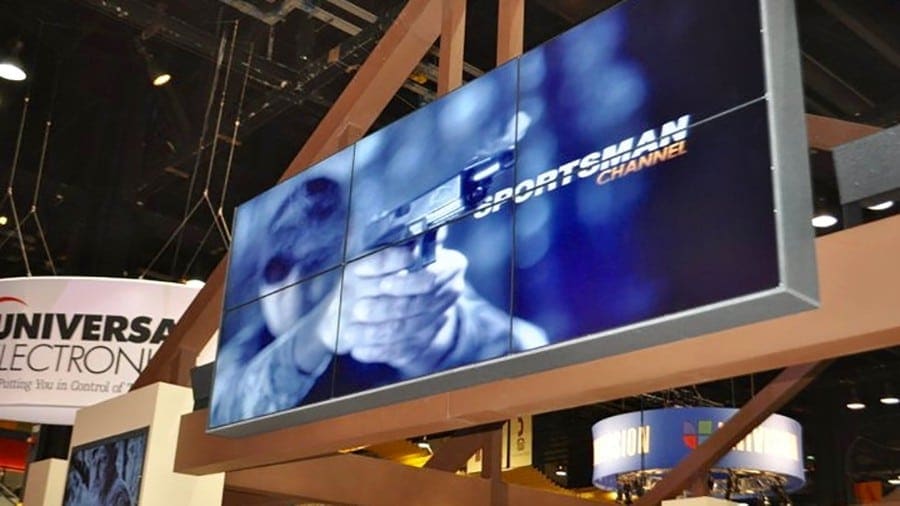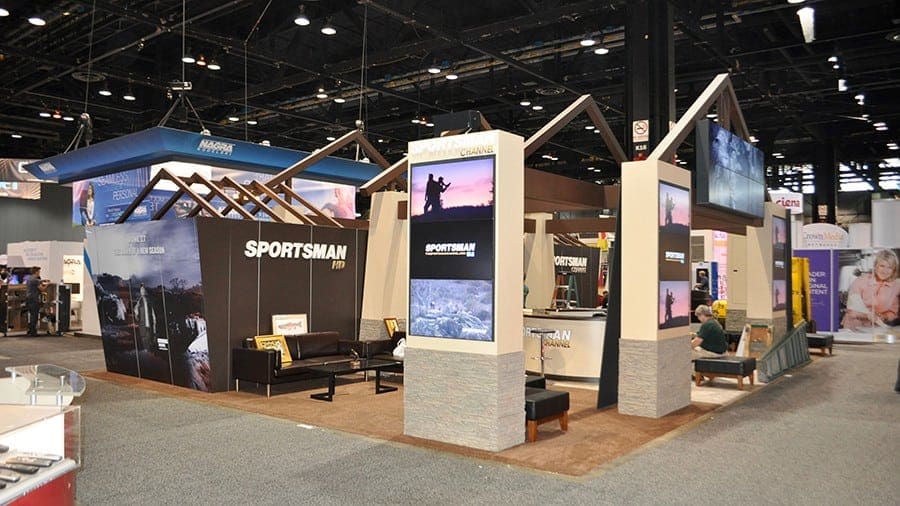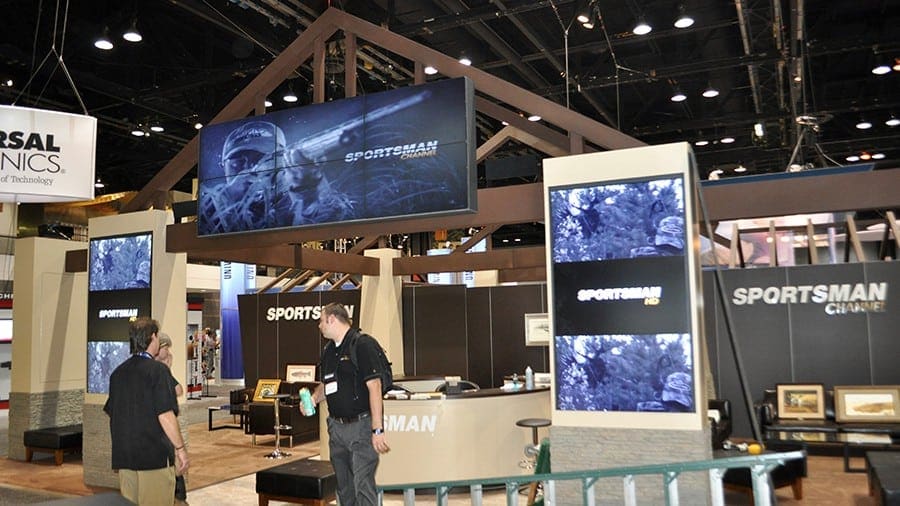 This exhibit is a perfect example of less is more.
Novomatic Americas wanted their products to be the center of attention, but they wanted to also ensure that show floor attendees would be drawn into their space. To meet these needs that were somewhat at odds with each other, Total Show Technology provided some very subtle displays to meet Novomatic's needs for dynamic content. Then, Total Show Technology designed an intelligent lighting package capable of highlighting the space's structural and design components from a distance. At closer viewing, the structural and design elements appeared to move more to the background in order to allow the star of the booth, the product, to be front and center.
Total Show Technology provided the video and lighting elements for this event.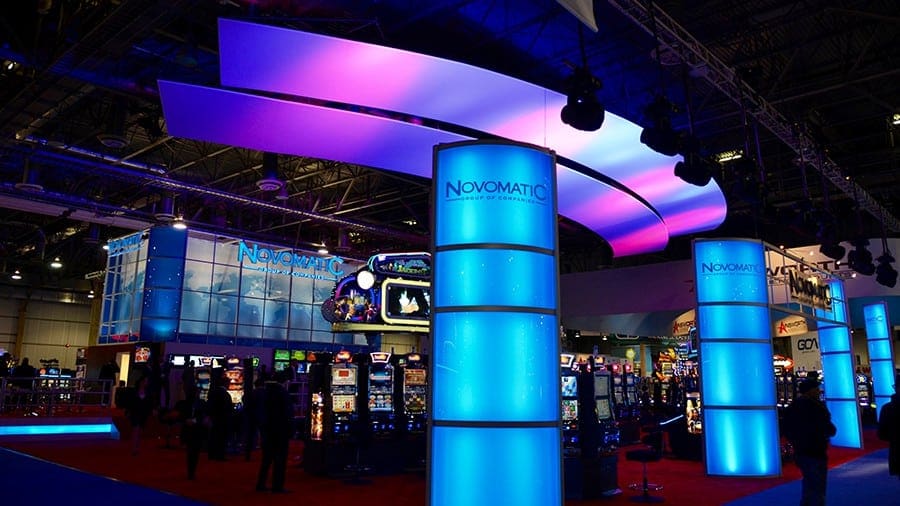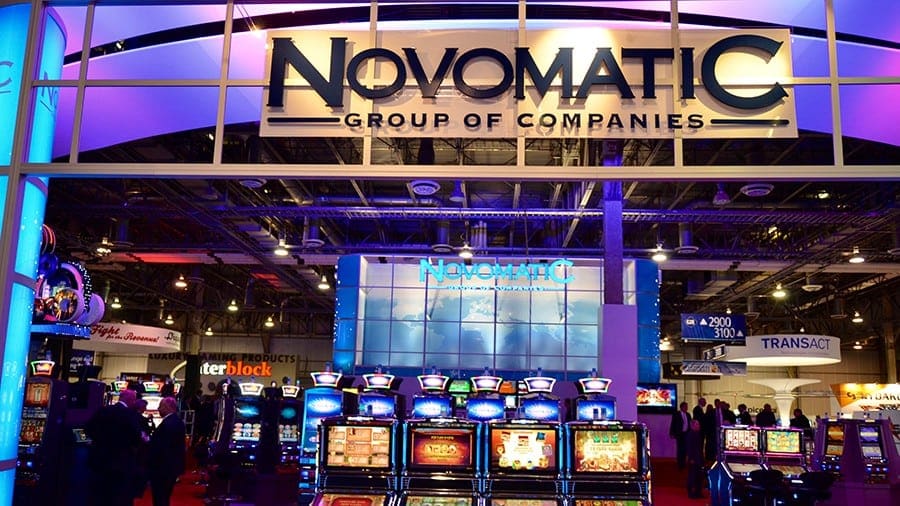 Video Testimonials from Satisfied Clients
" TST is our preferred vendor at Steelhead Productions. The TST staff is more like a partner to us, not to mention, their response time is awesome. "
Michelle Hilton, Estimator/Project Manager at Steelhead Productions
" I'm writing to thank you for all your effort directed toward NASCAR weekend at Las Vegas Motor Speedway. Your dedication to providing the best possible service in audio-visual equipment and installation was critical to the success of our event. Our VIP hospitality clients are very important to us, and your service is greatly appreciated. We at Las Vegas Motor Speedway are fortunate to have the entire Total Show Technology staff as a valuable partner for NASCAR weekend and year-round. Please don't hesitate to call on me for anything you need. "
Las Vegas Motor Speedway
" We've had a long-standing relationship with Total Show Technology (TST) since 2009. We can count on TST to deliver a higher-level of AV service for our conference rooms, general session and exhibits that enhances our entire show experience. "
Kirstin Lewis, Vice President, Event Operations, Questex LLC, Nightclub & Bar Convention and Trade Show
" We were looking for an AV company for our SuperZoo Trade Show, I chose Total Show Technology because their prices were among the best, they worked within my budget, and they are open and friendly to work with. "
Kathy Branson, Director of Trade Shows
" We feel we can trust TST, they are the preferred supplier for EFI. TST is more responsive than some of the other AV companies. When there is a problem, they show up quickly, ready to identify the issue and get things back on track. "
Monica Haskin-Savage, Sales Manager
" I work with TST because the service is unbelievable. When I call, email or text I get fast responses, I always say I only want to go through TST. "
Jill Waite, Account Director at Derse
" TST is our preferred vendor at Steelhead Productions. The TST staff is more like a partner to us, not to mention, their response time is awesome. "
Michelle Hilton, Estimator/Project Manager at Steelhead Productions
" I'm writing to thank you for all your effort directed toward NASCAR weekend at Las Vegas Motor Speedway. Your dedication to providing the best possible service in audio-visual equipment and installation was critical to the success of our event. Our VIP hospitality clients are very important to us, and your service is greatly appreciated. We at Las Vegas Motor Speedway are fortunate to have the entire Total Show Technology staff as a valuable partner for NASCAR weekend and year-round. Please don't hesitate to call on me for anything you need. "
Las Vegas Motor Speedway