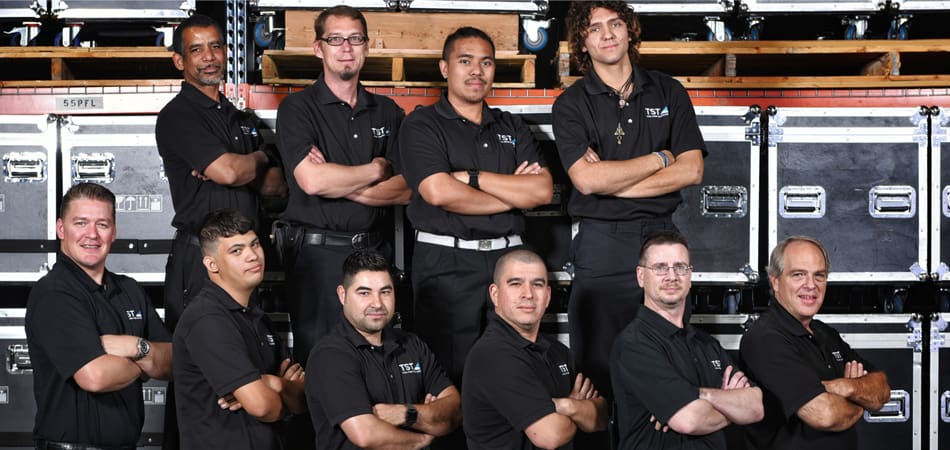 We have the best employees in the industry, and with an average tenure of 8 years, our employees stick around. The reason is simple. Our employees grow in their jobs and gain opportunities they wouldn't have anywhere else.
At TST, we believe that if our people are happy, engaged, and challenged each and every day, the stage is set for ongoing collaboration and growth. If you join our team, you'll build valuable industry skills and always know we have your best interests at heart.
Entry-level position - Sets up, operates, troubleshoots, maintains, picks up, and delivers audio visual equipment and systems. Seeking ambitious self-starters who want a solid foothold in the industry. Experience isn't needed -- what is needed is a service-minded attitude, a love of technology, and a desire to learn a trade.
Sets up, operates, and troubleshoots audio visual equipment and systems onsite (A1, A2, AV Assistant, V1, V2, L1, L2, LED).
No open positions at this time.
Shop Assistant (Full Time or Part Time)
Checks out, cleans, organizes, inventories, and performs routine maintenance on audio visual equipment and systems.
No open positions at this time.
Sells and coordinates audio visual production services, rentals, and labor; develops new business opportunities; and helps TST grow into new markets.
No open positions at this time.
Full-Time Employee Benefits
TST offers our full-time employees an extremely competitive compensation package:

Competitive salaries
Healthcare coverage for the employee and their family
Dental benefits for the employee and their family
Life insurance
401K pension plan
Training with bonus incentives
Paid time off and holiday pay
If you would like to apply for a job at TST, send your resume to hiring@totalshowtech.com and put the job title in the subject line.
Total Show Technology provides equal employment opportunities to all employees and applicants for employment and prohibits discrimination and harassment of any type with regard to race, color, religion, age, sex, national origin, disability status, genetics, protected veteran status, sexual orientation, gender identity or expression, or any other characteristic protected by federal, state, or local laws.
TECHNICAL PRODUCTION / EQUIPMENT / STAFFING
"I'm writing to thank you for all your effort directed toward NASCAR weekend at Las Vegas Motor Speedway. Your dedication to providing the best possible service in audio-visual equipment and installation was critical to the success of our event. Our VIP hospitality clients are very important to us, and your service is greatly appreciated. We at Las Vegas Motor Speedway are fortunate to have the entire Total Show Technology staff as a valuable partner for NASCAR weekend and year-round. Please don't hesitate to call on me for anything you need."
- Las Vegas Motor Speedway
" We've had a long-standing relationship with Total Show Technology (TST) since 2009. We can count on TST to deliver a higher-level of AV service for our conference rooms, general session and exhibits that enhances our entire show experience. "
- Kirstin Lewis, Vice President, Event Operations, Questex LLC, Nightclub & Bar Convention and Trade Show
" We were looking for an AV company for our SuperZoo Trade Show, I chose Total Show Technology because their prices were among the best, they worked within my budget, and they are open and friendly to work with. "
- Kathy Branson, Director of Trade Shows
"We feel we can trust TST, they are the preferred supplier for EFI. TST is more responsive than some of the other AV companies. When there is a problem, they show up quickly, ready to identify the issue and get things back on track. "
- Monica Haskin-Savage, Sales Manager
" I work with TST because the service is unbelievable. When I call, email or text I get fast responses, I always say I only want to go through TST. "
- Jill Waite, Account Director at Derse
" TST is our preferred vendor at Steelhead Productions. The TST staff is more like a partner to us, not to mention, their response time is awesome. "
- Michelle Hilton, Estimator/Project Manager at Steelhead Productions