August 18, 2021
/
/
Comments Off

on Anime Weekend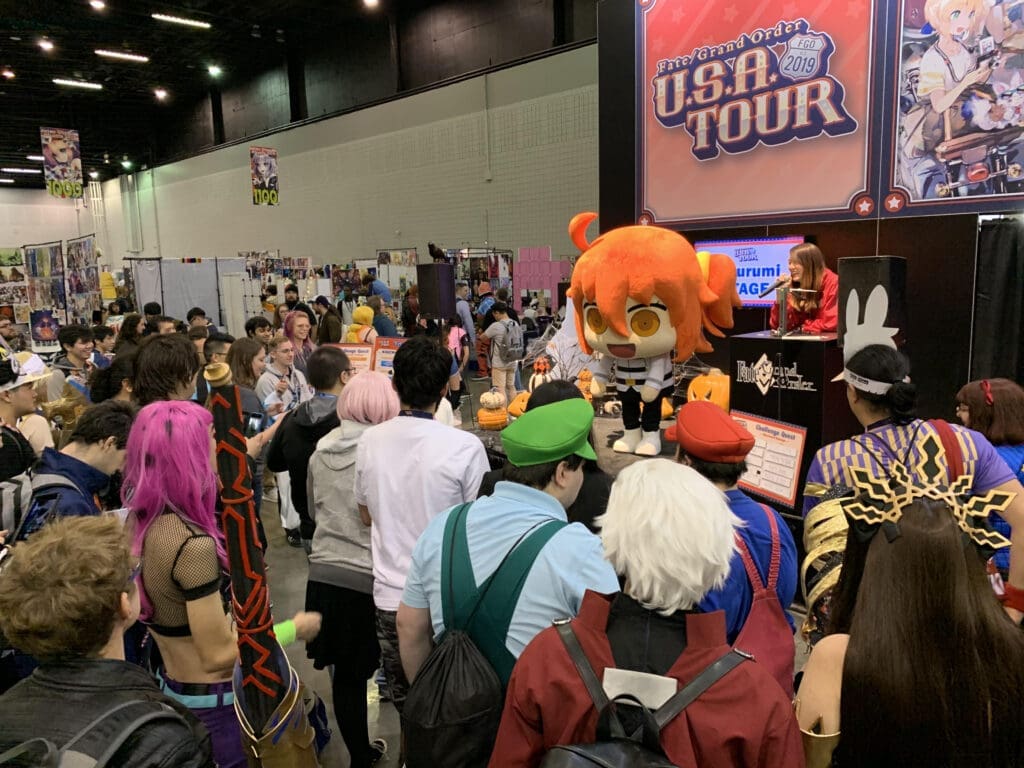 How did TST's Guy Savedra ensure Fate/Grand Order character Kigurumi made it onstage at Anime Weekend? He got in costume.
As more and more events are being scheduled nationwide, we're taking the opportunity to look back at some of our successful events in past years.
Each year, hundreds of costume players (cosplayers) descend on Atlanta's Cobb Galleria Centre as part of Anime Weekend Atlanta, a four-day celebration of Japanese anime (animation), manga (comics), and cosplay. The event is the largest anime convention in the southeast. The event attracts cosplayers from around the world, and fans are thrilled to see their favorite characters from the anime games and shows they love.
TST Support at Anime Weekend Atlanta
TST traveled with our client to provide audio visual production support at the Fate/Grand Order booth at a past Anime Weekend event. At one point, our client discovered that the person set to wear the costume for Kigurumi, a character in the popular Fate/Grand Order game, wasn't available. The client was in a pinch and wasn't sure what to do.
Now, we've talked before about how TST aims to provide above-and-beyond support to clients, but TST Project Manager Guy Savedra went a step further. Without skipping a beat, he put on the Kigurumi costume and went onstage to help promote the Fate/Grand Order USA Tour.
What will TST do to make sure your show goes off without a hitch? Whatever it takes!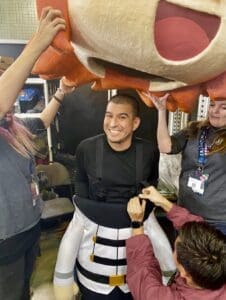 About Fate/Grand Order
Fate/Grand Order is an online, role-playing mobile game developed by Delightworks. In 2018, Fate/Grand Order grossed $1.2 billion, making it the year's seventh highest-grossing free-to-play game. Total revenues hit $4 billion by the end of 2019.
The Fate/Grand Order game is centered around turn-based combat where the player, who takes on the role of a "Master," summons and commands powerful familiars (known as "Servants") to battle enemies. The story narrative is presented in a visual novel format, and each Servant has their own scenario, which the player can explore. For more information, visit https://awa-con.com/.
Reach Out for Event Production Resources
TST is the total show production solution for anyone who hosts, plans, manages, or produces meetings, events, and trade shows. Our total show production capabilities include audiovisual design, installation, and live staffing and operation. Our services include video, audio, lighting, rigging, staging, computer services, labor sourcing, and equipment rentals.
In the fast-paced, rapidly changing event industry, what you know and who you know are everything. We know Las Vegas and the Pacific Southwest. We know all the venues inside and out. We know how to navigate challenges because we have the loyal network and connections that open the right doors when it matters most.
In an industry where almost anything can go wrong, we make sure everything goes right.
Reach out for a free consultation or to simply say "hello." We look forward to reconnecting, and, as always, we appreciate the opportunity to serve you. 702-897-8508 | sales@totalshowtech.com