AV Certifications and Memberships
August 23, 2023
/
/
Comments Off

on AV Certifications and Memberships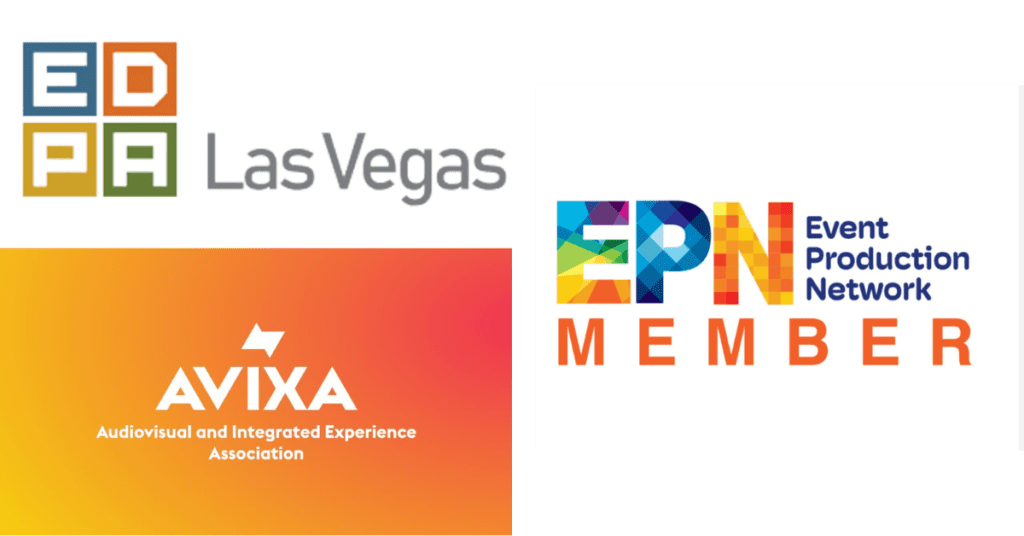 When you're looking for an AV production partner, make sure they have key AV certifications and memberships.
AV Certifications and AV Memberships
How can you gauge the reputation, expertise, and reliability of an AV event production company?
Start by making sure your AV partner is a member of the Event Production Network (EPN), a highly selective North American alliance that partners with meeting planners, producers, and event organizers to create memorable events.
Event Production Network members create 30,000 memorable event experiences each year — from concept to completion — with the latest AV technology that transforms any event into an experience. The invite-only, North American alliance helps meeting planners, event organizers, producers, and exhibit builders deliver exceptional events that bring audiences together — even from afar. EPN's award-winning members set the standard for immersive, dynamic, engaging events, producing in-person, virtual, and hybrid events throughout North America.
Also make sure your AV partner is a sponsor and active member of Experiential Designers and Producers Association (EDPA), an organization committed to creating effective face-to-face customer experiences and environments for trade shows, events, and corporate environments.
Founded in 1954, the Experiential Designers and Producers Association (EDPA) is committed to driving growth within the experiential, exhibit, and event industry through advocacy, networking, education, and good works. Recognized internationally, EDPA serves thousands of professional members and represents more than 300 corporations across 18 countries. Its members combine marketing, design, and production leadership to help organizations create effective face-to-face customer experiences and environments for trade shows, events, corporate environments, museums, retailers, education, and entertainment.
Finally, AV certifications are important as well. Make sure that your AV partner employs technicians with Certified Technology Specialist™ (CTS®) certification through InfoComm/AVIXA. For more than 30 years, AVIXA has administered the CTS program, recognized worldwide as the leading AV professional credential.
CTS credentials bring many benefits to corporate leaders, meeting planners, and producers. For example, it enables you to evaluate AV providers using an open, tested, clear set of industry criteria, as well as gain evidence of your AV partner's technical proficiency, experience, professionalism, and commitment to excellence. You'll know you're hiring professionals who are held to high standards of ethics and conduct.
Let's Talk About Your Next Show!
TST is the total show production solution for anyone who hosts, plans, manages, or produces trade shows, conferences, corporate meetings, and nightclub events. To support exhibit builders at NIADA and other big shows, TST provides AV design, setup, staffing, and operation. Our services include audio, video, LED and OLED walls, lighting, staging, computers and laptops, AV gear rentals, and affordable trade show Wi-Fi.
In the events industry, what you know and who you know are everything. We know the Pacific Southwest, Las Vegas, and all of the venues inside and out. We also travel with our clients to support their shows around the country. In an industry where almost anything can go wrong, we make sure everything goes right.