Top 5 Trade Show Trends 2022
March 30, 2022
/
/
Comments Off

on Top 5 Trade Show Trends 2022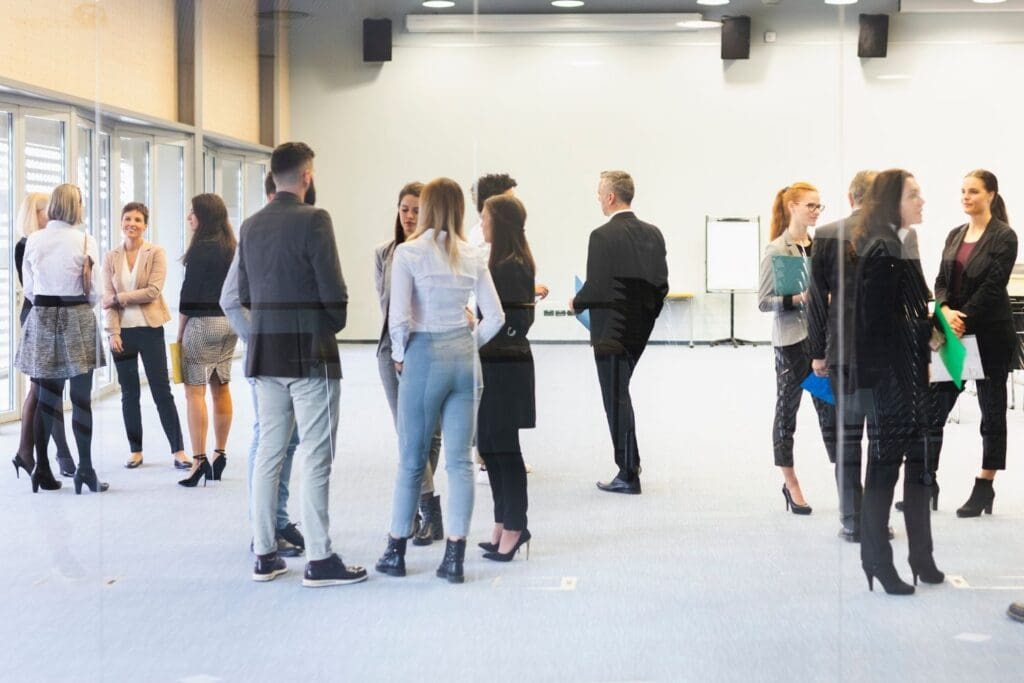 The top 5 trade show trends 2022 include staffing shortages, hybrid events, networking and connection, innovative technology, and event experiences.
Las Vegas tourism and business travel continue to rebound, and gaming revenue and hotel occupancy rates are steadily increasing. In-person and hybrid events are providing substantial opportunities for businesses to introduce new products, increase brand awareness, and generate sales. These events will also provide opportunities for attendees from around the world to reconnect — something many people have long awaited.
The events landscape in 2022 will pose its share of challenges. However, the pent-up demand for conferences and trade shows will open up lots of opportunities for attendees to reconnect and just as many opportunities for exhibitors to give those attendees an experience that feels fresh and new.
Top 5 Trade Show Trends 2022
From my perspective, these are the top 5 2022 trade show trends.
1. Events Industry Staffing Shortages
Employees are searching for meaningful work and workplaces that value their time, effort, and contributions. While staffing is a problem in many industries, the leisure and hospitality industry is at the very center of the worker crunch. According to Statista, almost 1 in 10 positions in the industry remained vacant as of the end of September 2021 (when data was last compiled). That means a whopping 1.59 million positions remained unfilled.
Hospitality and events industry labor shortages across the U.S. are impacting staff support for trade shows and conferences. Competition for top labor means some venues and event producers may have trouble staffing shows. (Fortunately, most of TST's staff returned when business resumed after initial pandemic shutdowns.)
2. Virtual and Hybrid Events Are Here to Stay
Virtual and hybrid events are less popular options than in-person conferences and trade shows. Nonetheless, they aren't going away anytime soon. In the long run, hybrid events will probably offer the most options. Hybrid events include an in-person conference, meeting, or trade show alongside a virtual component, thus broadening the audience and the appeal.
3. Networking and Connection
Attendees have spent a lot of time at home over the past couple years, and they want more opportunities to reconnect, build and reinforce business and personal relationships, hear and learn from industry experts in person, and see the latest products and tech innovations firsthand.
Most importantly — they no longer want to network over Zoom.
4. Innovative Technology
Conferences and trade shows will include more innovative technologies to engage in-person attendees, along with virtual attendees.
Virtual reality (VR) and similar innovative technologies can be used to tell a richer story – so long as they're integrated into conferences and trade shows in a thoughtful way. For example, instead of spending money on a stage and a sound reinforcement system, some planners are using VR headsets to produce a more visually impactful experience that gives attendees a window into different worlds.
The size and type of video screen technology used to capture attendee attention will also continue to have a huge impact on events. As one example, the modular beMatrix LEDskin system offers endless possibilities for shapes and configurations in conference LED walls and trade show booths. LEDskin tiles offer many creative possibilities, including wraparound inner and outer LED corners and a full, 360-degree video wall configuration.
In addition, LED Cubes are ideal for trade show booths, conferences, and nightclub live events. LED Cubes are three separate, state-of-the-art, immersive LED video walls that function as a self-contained units, creating an immersive LED video wall experience. LED Cubes can capture attention across a trade show floor or at an event in dramatic new ways — and make your booth the talk of the trade show floor.
5. The Experience Is Critical
People want to see something new, something that stands out in the sea of sameness. Events need to focus much more on the overall quality of the experience from beginning to end. Attendees aren't looking for the tried and true trade shows of 2019. Instead, they want — and expect — more in 2022.
In 2022, many people will be attending their first in-person conferences and trade shows since the pandemic started. Now is the time to reinvent events and trade shows, as well as to take risks and give attendees the opportunity to engage in immersive learning, make the most of learning opportunities they couldn't get anywhere else, and spend quality time with presenters, exhibitors, and other attendees. The goal: Make the entire experience thoughtful, designed with intention, and at all times memorable.
Reach Out Today!
TST is the total show production solution for anyone who hosts, plans, manages, or produces trade shows, conferences, and nightclub live events. Our services include video, audio, lighting, staging, labor, laptop rentals, and gear rentals.
In the rapidly changing event industry, what you know and who you know are everything. We know Las Vegas and the Pacific Southwest. We know all the venues inside and out. In an industry where almost anything can go wrong, we make sure everything goes right.
Reach out to learn about laptop rentals, audiovisual gear rentals, our mobile streaming package, and our affordable Las Vegas trade show wifi and data solution. Together, let's make your next conference or trade show booth a standout!