Licensing Expo Exhibitor Booth AV Support
May 3, 2023
/
/
Comments Off

on Licensing Expo Exhibitor Booth AV Support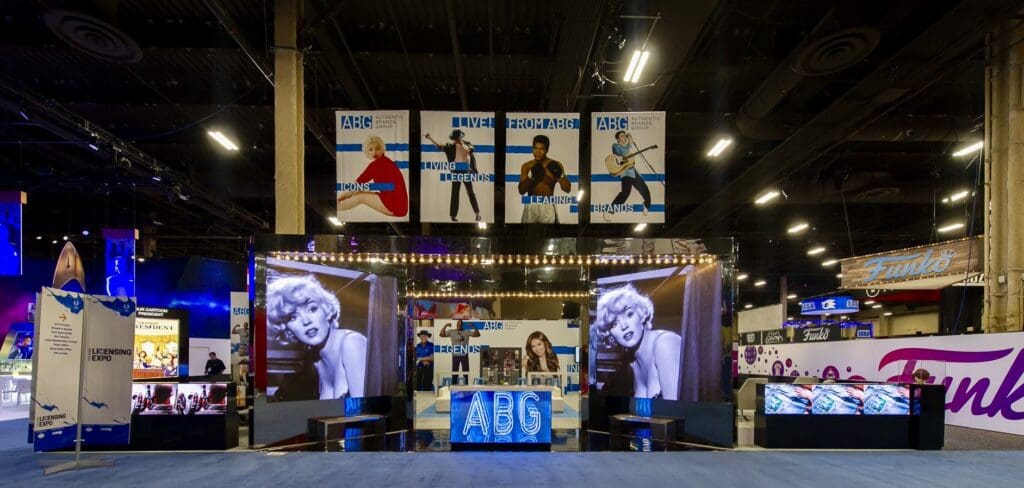 Total Show Technology provides Licensing Expo exhibitor booth AV technology, staffing, and support for brands that need to capture attention.
Licensing Expo Exhibitor Booth AV Support
Licensing Expo is the largest event dedicated to licensing and brand extension. It's the place where the world's biggest brands look to spot trends, build partnerships, and secure brand rights for products. It's also where major players in the global licensing industry meet directly with brand owners.
With attendees from 77 countries and all product categories all looking for new brand partnerships for their next product range, Licensing Expo offers endless opportunities for exhibitors to give fans new ways to connect with their brands every day.
Licensing Expo gives licensing partners and consumers the chance to get their hands on the brands they love. At Licensing Expo, three in four exhibitors expect their ROI from exhibiting at Licensing Expo to be "excellent." The total attendance is around 12,000, with an average of 5,000 meetings scheduled. Roughly 57% of visitors are at the CEO/Director level. Exhibitors expect an average of seven deals from the show on average, and attendees set aside 20% of their time for walk-on meetings with exhibitors.
TST Knows How You Can Stand Out Licensing Expo
Each year, Total Show Technology (TST) provides Licensing Expo trade show booth AV technology and support at Licensing Expo for Authentic Brands Group, Zoonicorn, Discovery #Mindblown, and other clients.
Licensing Expo brings together key decision-makers from throughout the $292 billion licensing industry. Exhibitors at Licensing Expo know there's a huge advantage to being able to find the right licensing partners to tell their brand's story and bring it to life in new and creative ways.
As an exhibitor at Licensing Expo, you'll have access to the Online Event Planner, a one-of-a-kind service created for Licensing Expo that allows exhibitors to browse the full list of attendees and schedule one-on-one meetings before the show even starts.
Let's Talk About Your Next Trade Show Booth
TST is the total show production solution for anyone who hosts, plans, manages, or produces trade shows, conferences, and nightclub live events. Our AV production trade show booth services include audio, video, LED walls, lighting, staging, computer services, affordable trade show Wi-Fi, mobile streaming kits, AV gear and laptop rentals, staffing, and support.
Exhibitors also know that it's easy for their booths and exhibits to be overlooked on a packed trade show floor. Exhibitors partner with TST and our highly skilled exhibit builder partners to make sure their exhibits capture attention and communicate their message.
In the events industry, what you know and who you know are everything. We know all the venues and shows in Las Vegas inside and out. In an industry where almost anything can go wrong, we make sure everything goes right.
Reach out — let's talk about your Licensing Expo exhibitor booth — or your next show!