NIADA Trade Show AV Support
May 9, 2023
/
/
Comments Off

on NIADA Trade Show AV Support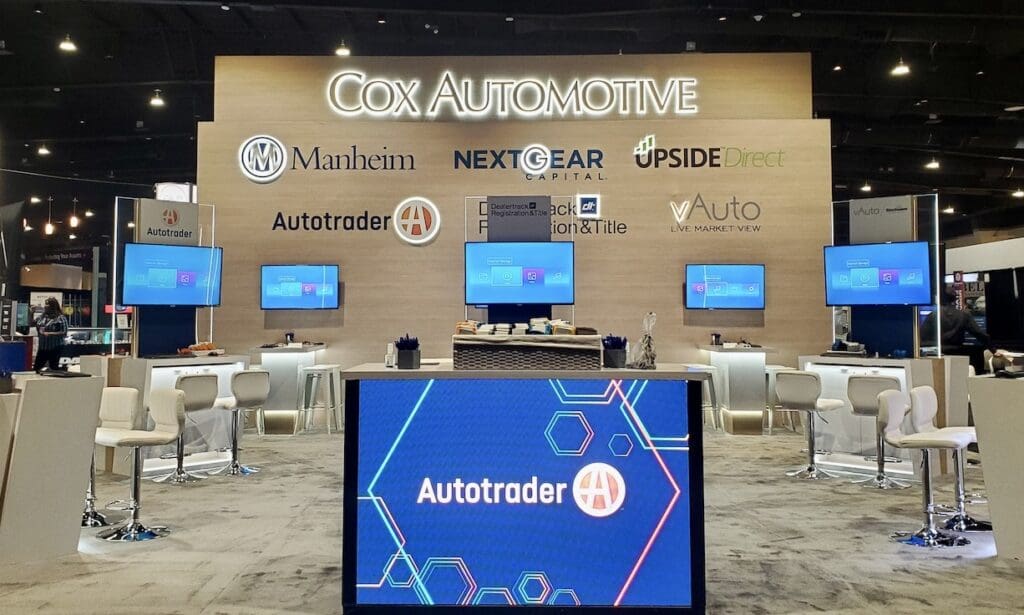 Each year, TST provides AV technology, staffing, and support for exhibit builders and exhibitors at the NIADA Convention and Expo.
NIADA Convention and Trade Show AV Support
Total Show Technology (TST) has provided support for exhibit house clients like Steelhead Productions at the NIADA Conference & Expo, which is held in Las Vegas each year. The National Independent Automobile Dealers Association (NIADA) is among the nation's largest trade associations, representing the used motor vehicle industry comprised of some 40,000 licensed used car dealers.
Last year, TST provided AV production support for a booth that included a front reception area with an LED video wall display. The exhibit included 13 monitors on demo stations. To make those demo stations as engaging as possible, we enabled the client to switch seamlessly between sources. Without needing to close out or open applications, the client was able to rapidly shift back and forth from demo presentations to videos playing in the background.
At the NIADA convention, the expo is always packed. Each year, the booths we support draw qualified prospects and interested buyers from across the trade show floor. That's exactly the kind of booth appeal our clients are seeking. Our exhibit builder clients collaborate with TST in order to capture attention and communicate their clients' message because they trust our AV production technology, service, and support.
About the NIADA Convention & Expo
The NIADA Convention & Expo returned to Las Vegas in 2022 at the MGM Grand's recently expanded convention space. It was their first in-person event since 2019. More than 1,600 independent vehicle dealers and exhibitors attended.
According to NIADA Convention data, in 2022 90% of attendees were dealers, and 92% of those dealers are actively looking for solutions from vendor partners they connect with in the Expo Hall. In addition, 89% of attendees found the variety of vendor partners in the Expo Hall to be beneficial, and 97% of attendees would recommend attending the NIADA Convention & Expo to colleagues.
The NIADA Convention & Expo 2023 will be held at Wynn Las Vegas. It's an excellent opportunity to connect with engaged dealer principals, managers, and executive decision makers looking for tools and solutions to grow their businesses. NIADA's experts tackle the latest trends, best practices, legislative issues, and strategies that independent auto dealers need to know. Each year, dealers and managers experience four days packed with outstanding networking opportunities, world-class education, and an exceptional trade show expo.
AV Support for Exhibitor Booths and More
TST is the total show production solution for anyone who hosts, plans, manages, or produces trade shows, conferences, corporate meetings, and nightclub events. To support exhibit builders at NIADA and other big shows, TST provides AV design, setup, staffing, and operation. Our services include audio, video, LED walls, lighting, staging, computers and laptops, AV gear rentals, and affordable trade show Wi-Fi.
In the events industry, what you know and who you know are everything. We know the Pacific Southwest, Las Vegas, and all of the venues inside and out. We also travel with our clients to support their shows around the country. In an industry where almost anything can go wrong, we make sure everything goes right.