June 15, 2022
/
/
Comments Off

on World of Concrete 2023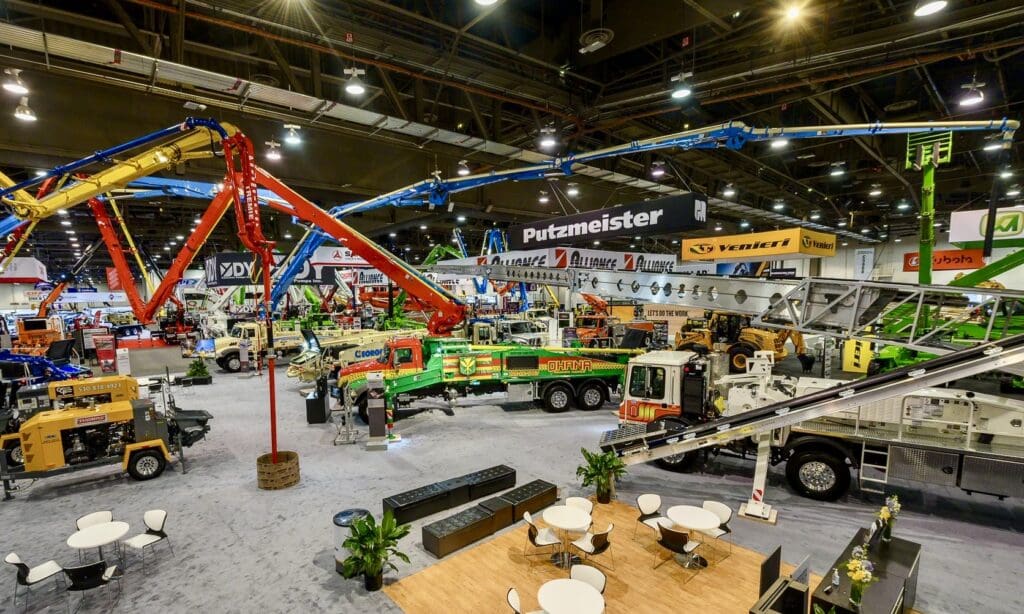 World of Concrete 2023: TST provides annual audio visual production support to help exhibitors capture attention and tell their story.
World of Concrete Exhibitor Support
Every year, Total Show Technology provides support for exhibitors at World of Concrete, the only annual international event dedicated to the commercial concrete and masonry construction industries. We support such clients as Putzmeister, a German manufacturer of concrete pumps and other equipment, and CTS Cement Manufacturing Corp., maker of Rapid Set cement products.
We collaborate with exhibit designers and exhibit marketing agencies to create standout exhibits and booths of all sizes. Together, we draw from our massive inventory of audio, video, LED wall, lighting, and computer technology to create spaces that capture attention and help our clients tell their story.
What to Expect at World of Concrete 2023
World of Concrete (WOC) connects and educates buyers and sellers serving the global concrete and masonry construction industries.
WOC provides the connections, intelligence, and opportunities that help buyers and sellers serving the global concrete and masonry construction industries grow, do business, and make better-informed business decisions. Attendees have the opportunity to try out advanced technology and machinery, as well as access the newest training and techniques in concrete and masonry.
Attendees include more than 60,000 industry professionals from all around the world, representing all segments of the construction industry: Commercial Contractors, Concrete Contractors, Concrete Pumpers, Construction Managers, Dealers/Distributors, Decorative Concrete Contractors, Designers and Specifiers, General Contractors, Block/Segmental Unit Producers Masonry Contractors, Architects, Engineers, Block Producers, Ready Mix Producers, Rental Equipment Centers, Repair Contractors, Residential Contractors, Specialty Concrete Contractors, Precast, Pipe and Block Producers, and Precast/Prestressed Producers.
The show attracts 1,500 exhibiting companies and occupies over 700,000 square feet of indoor and outdoor exhibit space. Exhibitors include original equipment manufacturers from around the world and exclusive U.S. distributors of equipment, tools, products, and services for the commercial construction, concrete, and masonry industries.
Watch the WOC 2023 Video
The World of Concrete 2023 exhibit hall will take place January 17-19, 2023.
Reach Out Today!
TST is the total show production solution for anyone who hosts, plans, manages, or produces trade shows, conferences, and nightclub events. Our services include video, audio, lighting, staging, labor, and AV equipment and laptop rentals.
In the events industry, what you know and who you know are everything. We know the Pacific Southwest, Las Vegas, and all the venues inside and out. In an industry where almost anything can go wrong, we make sure everything goes right.
Reach out to learn about our trade show and exhibit support, laptop rentals, audiovisual gear rentals, mobile streaming package, and affordable Las Vegas trade show wifi and data solution. Together, let's make your next trade show booth a standout!