September 20, 2023
/
/
Comments Off

on SEMA 2023 Dates

If you'll be at SEMA Show (SEMA 2023 dates: October 31 – November 3), let's connect. Let's build an experience!
SEMA Las Vegas
The Specialty Equipment Market Association (SEMA) Show is an annual trade show and one of the largest gatherings of automotive industry professionals and enthusiasts in the world. Founded in 1963, SEMA has grown to become a pivotal event for those involved in the automotive aftermarket, where businesses showcase their products, network, and stay up-to-date with the latest industry trends and innovations.
SEMA Show has earned its immense popularity for several reasons:
Industry Relevance: SEMA is the premier event for the automotive aftermarket industry, attracting professionals and enthusiasts alike. It's where businesses in this sector showcase their latest products, innovations, and customized vehicles. Anyone involved or interested in the automotive aftermarket can find value in attending.
Product Showcase: The SEMA Show is a massive platform for exhibitors to display their products. Attendees can see, touch, and experience the latest and most innovative automotive parts, accessories, tools, and technologies. This firsthand exposure is invaluable for industry professionals and enthusiasts seeking cutting-edge solutions.
Networking Opportunities: The show provides an exceptional environment for networking. Manufacturers, distributors, retailers, builders, and media representatives from around the world converge at SEMA, fostering collaboration and partnerships within the industry. Many significant deals and business relationships are initiated or solidified during the event.
Educational Resources: SEMA offers educational seminars, workshops, and presentations by industry experts. These sessions cover a wide range of topics, including emerging trends, marketing strategies, and technological advancements. Attendees gain valuable insights and knowledge that can help them stay competitive in the market.
Customization Showcase: SEMA is renowned for its dazzling displays of customized vehicles. Builders and exhibitors present their one-of-a-kind automotive creations, pushing the boundaries of design and innovation. These vehicles serve as a source of inspiration and aspiration for enthusiasts and professionals alike.
Cultural Phenomenon: Beyond the business aspect, SEMA has become a cultural phenomenon. Customization and modification of vehicles are a major part of car culture, and SEMA is the ultimate celebration of this passion. Enthusiasts flock to see their dream cars and connect with like-minded individuals.
Media Coverage: SEMA receives extensive media coverage, both within the automotive industry and in mainstream media. This amplifies the reach of the event, making it a focal point for automotive enthusiasts worldwide. Media outlets use SEMA as a platform to unveil and discuss the latest automotive trends and innovations.
Innovation Hub: SEMA is at the forefront of automotive innovation. Many groundbreaking technologies and trends in the industry are first unveiled at the show. It's where attendees can get a sneak peek into the future of the automotive world.
Las Vegas Location: The choice of Las Vegas as the venue adds to the allure of SEMA. The city's entertainment options, accommodations, and amenities create a vibrant atmosphere that enhances the overall experience for attendees.
SEMA Show's popularity stems from its central role in the automotive aftermarket industry, its unparalleled product showcase, networking opportunities, educational resources, and its embodiment of automotive culture and innovation. It's an event that offers something for everyone, from business professionals to passionate enthusiasts, making it a must-attend for anyone connected to the automotive world.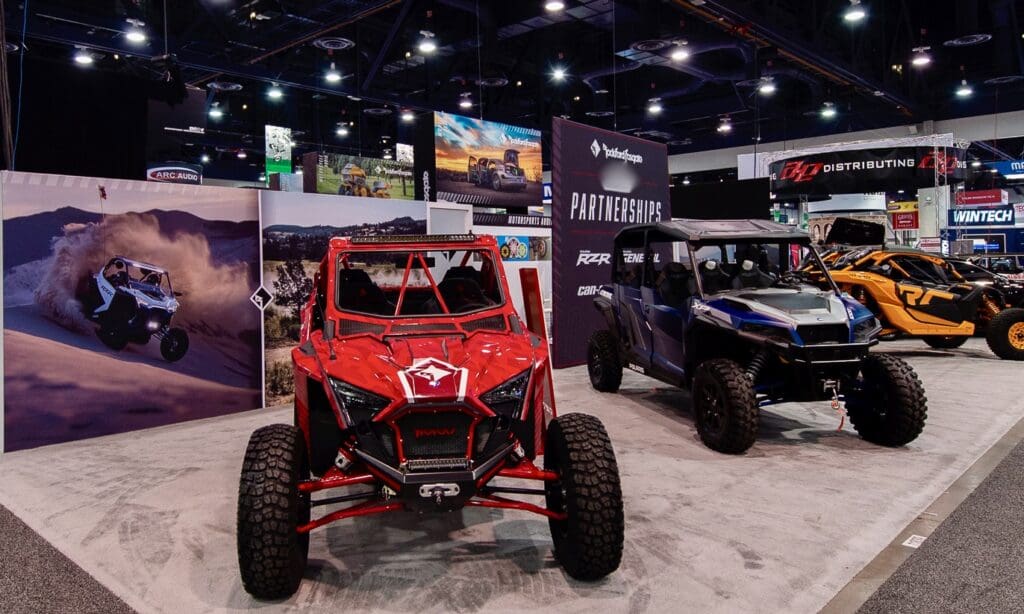 SEMA 2023 Dates
The SEMA Las Vegas Show typically takes place in late October or early November each year at the Las Vegas Convention Center in Las Vegas, Nevada. The SEMA 2023 dates are October 31 through November 3. This four-day event attracts tens of thousands of attendees, including manufacturers, distributors, retailers, automotive builders, and media representatives from around the globe. It's known for its impressive displays of customized vehicles, cutting-edge automotive products, and a diverse array of exhibitors.
There is no other trade show where you can see thousands of product innovations from new and iconic exhibitors, experience the latest product and custom vehicle trends, get access to 70+ free professional skill-enhancing education sessions and make career-changing connections with peers, leaders, and celebrities at the industry's most anticipated in-person networking event.
Each year, TST provides audio visual event production support for our valued exhibit builder clients. SEMA Show is known for showcasing innovation while highlighting transformation in the automotive aftermarket industry. TST provides technology that helps our clients stand out at this high-profile show, gain exposure, and connect with their audience.
We even have an internet package for producers, trade show booth designers, and exhibitors that can provide the connectivity and bandwidth needed. The price is very affordable.
Essentially, we will set up a mobile connectivity "cloud" available to multiple Wi-Fi-enabled devices simultaneously and provide you with the significantly higher bandwidth you need. Best of all, you can achieve a download speed of 150 Mbps and an upload speed of 15 Mbps at a fraction of the cost most venues charge for a fraction of the bandwidth.
Our wireless offering provides the secure, reliable, and cost-effective connectivity solutions you need, wherever you need it — especially on the trade show floor. Our wifi and data solution will meet your bandwidth requirements, give you the data speeds you need, and give you the connectivity tools you need on the trade show floor and at remote venues.
Let's Build an Experience at SEMA Las Vegas!
TST is the total show production solution for anyone who hosts, plans, manages, or produces conferences, corporate meetings, and nightclub events, and trade shows, including SEMA Las Vegas. If you or your clients are exhibiting at SEMA Show (SEMA 2023 dates October 31 – November 3), we should talk. Our audio visual event production services include audio, video, LED walls (including beMatrix), lighting, rigging, staging, computers and laptops, labor sourcing, gear rentals, and affordable trade show Wi-Fi.
In the meetings and events industry, what you know and who you know are everything. We know Las Vegas and the Pacific Southwest. We know all the venues inside and out. We have the loyal network that opens the right doors when it matters most. In an industry where almost anything can go wrong, we make sure everything goes right.
Reach out — together, let's build an experience!