September 6, 2023
/
/
Comments Off

on SEMA Las Vegas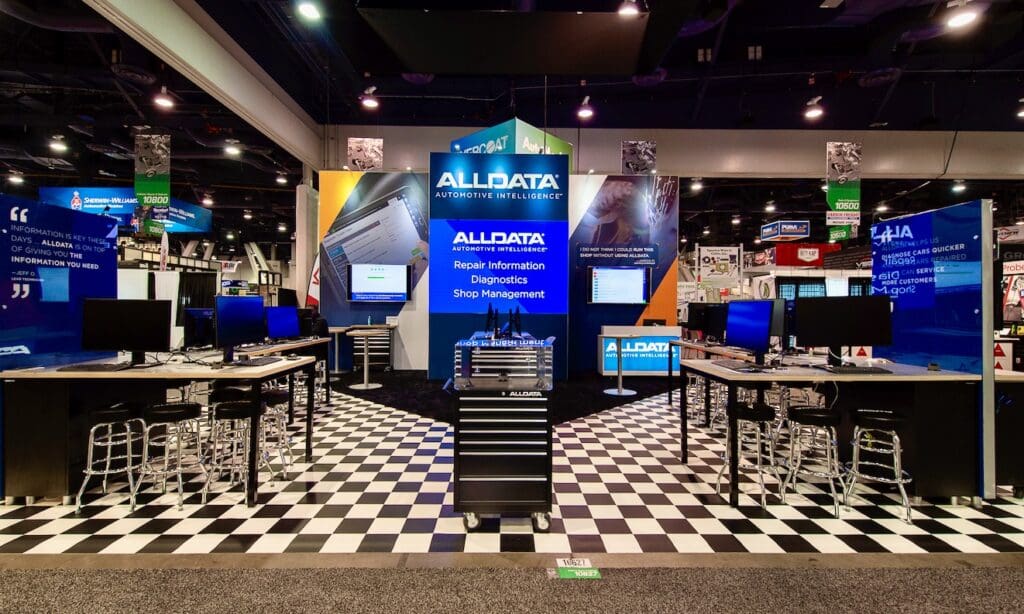 If you'll be exhibiting at SEMA Las Vegas at the Las Vegas Convention Center, let's talk. Let's build an experience!
SEMA Las Vegas
The Specialty Equipment Market Association (SEMA) Show is an annual trade show and one of the largest gatherings of automotive industry professionals and enthusiasts in the world. Founded in 1963, SEMA has grown to become a pivotal event for those involved in the automotive aftermarket, where businesses showcase their products, network, and stay up-to-date with the latest industry trends and innovations.
The SEMA Las Vegas Show typically takes place in late October or early November each year at the Las Vegas Convention Center in Las Vegas, Nevada. This four-day event attracts tens of thousands of attendees, including manufacturers, distributors, retailers, automotive builders, and media representatives from around the globe. It's known for its impressive displays of customized vehicles, cutting-edge automotive products, and a diverse array of exhibitors.
It's Not Just About Products …
One of the primary purposes of the SEMA Las Vegas Show is to provide a platform for companies in the automotive aftermarket industry to showcase their products and innovations. These products encompass a wide range of categories, including performance parts, accessories, tools, electronics, and more. The show allows attendees to see, touch, and experience the latest offerings in the automotive world firsthand.
The SEMA Show is not just about products; it's also about networking and collaboration. Industry professionals use this event to connect with suppliers, buyers, and potential business partners. It provides a unique opportunity for businesses to establish relationships that can lead to fruitful collaborations, distribution agreements, and expansion opportunities.
Moreover, the SEMA Show offers educational seminars and workshops, where attendees can gain insights into industry trends, marketing strategies, and the latest technologies. These sessions are hosted by experts in their respective fields and provide valuable knowledge and tools to help businesses thrive in the ever-evolving automotive aftermarket.
Customization and creativity take center stage at SEMA, as many exhibitors and builders showcase their remarkable vehicle builds. Attendees can witness a wide variety of customized cars, trucks, and motorcycles, each a unique masterpiece of automotive artistry. These vehicles serve as a source of inspiration for industry professionals and enthusiasts alike, pushing the boundaries of what's possible in automotive customization.
In addition to its business-oriented aspects, the SEMA Show also has a strong focus on automotive culture and enthusiast engagement. It hosts events like the SEMA Cruise, where customized vehicles parade out of the convention center, and SEMA Ignited, a high-energy afterparty where the public can see the incredible vehicles up close.
The SEMA Las Vegas Show is a pivotal event in the automotive aftermarket industry, providing a platform for businesses to showcase their products, network, and stay informed about the latest industry trends. It's not just a trade show; it's a vibrant celebration of automotive culture and innovation that leaves a lasting impact on the industry and its enthusiasts.
Let's Build an Experience at SEMA Las Vegas!
TST is the total show production solution for anyone who hosts, plans, manages, or produces conferences, corporate meetings, and nightclub events, and trade shows, including SEMA Las Vegas. Our audio visual event production services include audio, video, LED walls (including beMatrix), lighting, rigging, staging, computers and laptops, labor sourcing, gear rentals, and affordable trade show Wi-Fi.
In the meetings and events industry, what you know and who you know are everything. We know Las Vegas and the Pacific Southwest. We know all the venues inside and out. We have the loyal network that opens the right doors when it matters most. In an industry where almost anything can go wrong, we make sure everything goes right.
Reach out — together, let's build an experience!