RSAC 2023 – RSA Conference San Francisco
March 26, 2023
/
/
Comments Off

on RSAC 2023 – RSA Conference San Francisco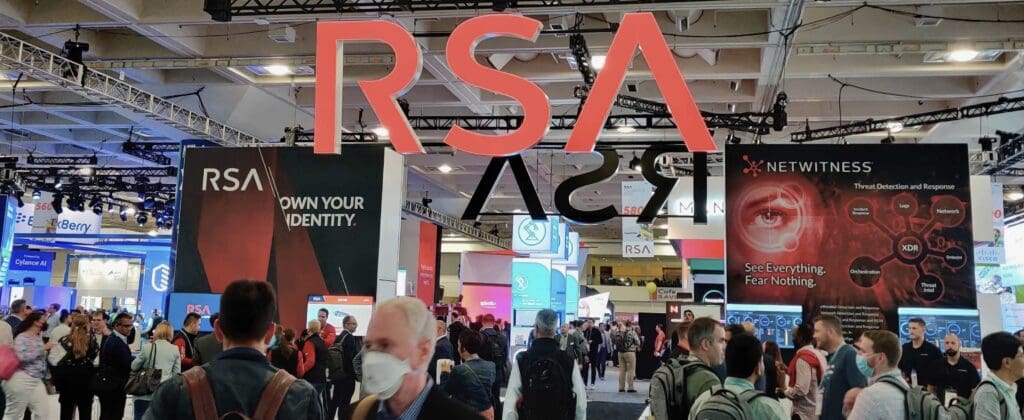 Total Show Technology provides trade show booth AV technology, staff, and support at RSAC 2023 – RSA Conference San Francisco.
RSA Conference San Francisco
Each year, we support our clients' booths at the RSA Conference (RSAC), which is held at the Moscone Center in San Francisco, California. We're excited to support RSAC 2023, which will be held from April 24-27, 2023. If you or your clients are exhibiting at RSAC 2023, reach out to learn how our AV technology, staffing, and support can make your booth stand out across the trade show floor.
What Is RSAC 2023?
RSA Conference San Francisco is the world's leading information security conferences and expositions. The conference brings together the world's top cybersecurity, government, and business leaders to learn about and formulate the smart strategies to help organizations and communities address current and future cyber threats.
RSA Conference is the ultimate marketplace for the latest technologies and hands-on educational opportunities that help industry professionals discover how to make their companies more secure while showcasing the most enterprising, influential, and thought-provoking leaders in cybersecurity today.
RSA Conference is where the industry convenes to participate in critical conversations about how to secure businesses, employees, and customers. Attendees will learn about emerging trends and hear unique perspectives and inspiring real-life stories. RSAC 2023 will support two keynote stages. The West Stage will feature sponsor keynotes, panels, and esteemed guest speakers. The South Stage will feature educational sessions from industry experts.
Capture Attention From Across the Trade Show Floor
TST is the total show production solution for anyone who hosts, plans, manages, or produces trade shows, meetings, conferences, and nightclub live events. Our production capabilities include audiovisual design, setup, staffing, and operation. Our services include audio, video, LED walls, lighting, staging, computer services, AV gear and laptop rentals, and labor sourcing.
In the events industry, what you know and who you know are everything. We partner with the best exhibit houses, and we know all the venues in Las Vegas inside and out. In an industry where almost anything can go wrong, we make sure everything goes right.
If you or your clients are exhibiting in Las Vegas, San Francisco, or anywhere throughout the Pacific southwest, reach out. Together, we'll build an experience!