NADA Show 2023 and NADA Show 2024
January 11, 2023
/
/
Comments Off

on NADA Show 2023 and NADA Show 2024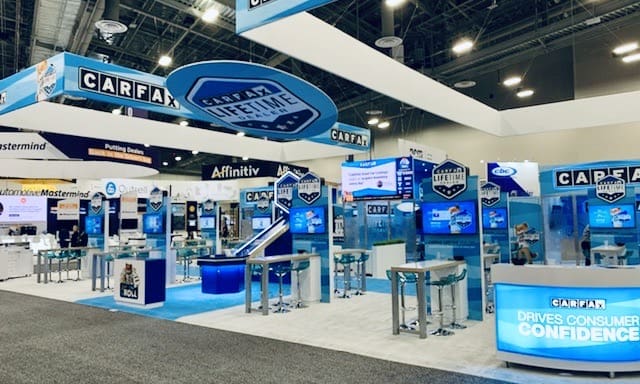 Total Show Technology provides AV production support for exhibit builders and exhibitors at NADA Show 2023 and NADA Show 2024.
NADA Show Dallas and Las Vegas
Each year, Total Show Technology supports the National Auto Dealers Association (NADA) Show. It's the auto industry event of the year. We handle several large LED wall projects for high-profile exhibit houses and their clients. The exhibits capture attention from across the trade show floor.
NADA Show is where dealers, manufacturers, exhibitors, and experts convene for unparalleled opportunities to network with peers, industry experts and exhibitors all under one roof. The NADA Show is anchored by an expo showcasing the latest products and services for each dealership department.
The 2022 show was held in March in Las Vegas. NADA Show 2022 Las Vegas featured more than 500 exhibitors spread over 700,000 square feet of exhibit space at the Las Vegas Convention Center.
NADA Show 2023 is being held in January 2023 at the Kay Bailey Hutchison Convention Center in Dallas. The show features over 600,000 square feet of exhibit space and 500+ exhibitors at the Kay Bailey Hutchison Convention Center in Dallas.
NADA Show 2024 Details
NADA Show 2024 returns to Las Vegas. The expo is the auto industry's premier marketplace, with more than 500 companies offering thousands of products, solutions and services. It's an excellent opportunity to engage with current providers and shop for new suppliers.
NADA Show 2024 Location: Las Vegas Convention Center
NADA Show 2024 Dates: February 1-4, 2024 (Thursday-Sunday)
TST Supports Exhibit Houses, Exhibitor Booths, and More
TST is the total show production solution for anyone who hosts, plans, manages, or produces trade shows, conferences, and nightclub live events. To support our exceptional exhibit builder partners at events like NADA Show 2023 in Dallas and NADA Show 2024 in Las Vegas, we provide AV production, technology, staffing, and support. Our services include audio, video, LED walls, lighting, staging, computers and laptops, affordable trade show WiFi, AV gear rentals, and onsite setup and staffing.
In the events industry, what you know and who you know are everything. We know the Pacific Southwest, Las Vegas, and all of the venues inside and out. We also travel with our clients wherever they go nationwide. Each year, TST travels with clients to shows around the country. Trusted support and continuity of service are critically important to many of our high-profile exhibitor clients.
In an industry where almost anything can go wrong, we make sure everything goes right.