May 4, 2022
/
/
Comments Off

on Trade Show LED Walls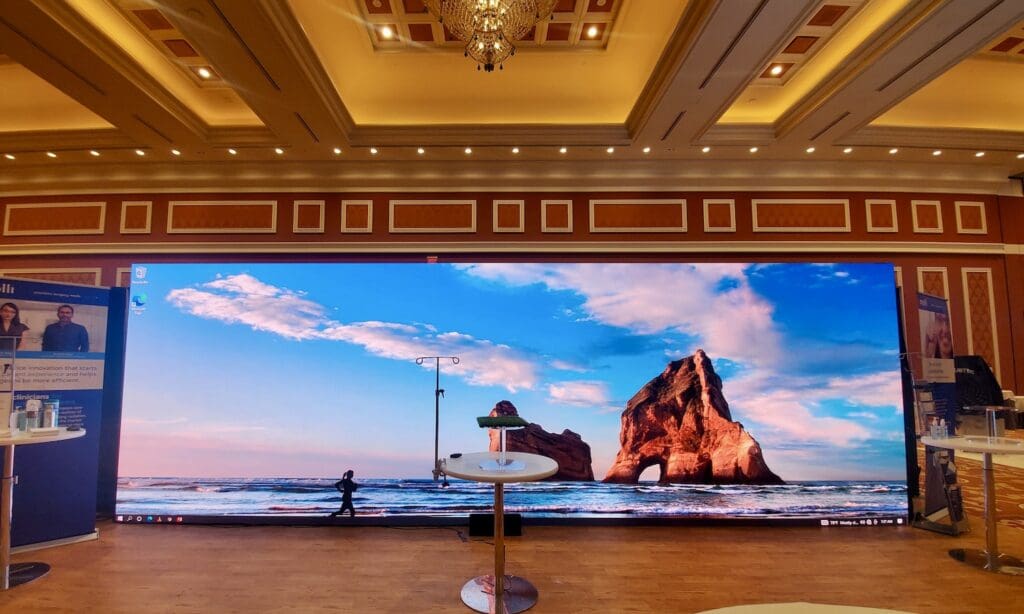 Trade show LED walls draw attention from across the trade show floor. And they aren't just for elite exhibitors anymore!
We recently provided a 10×30 LED back wall for a trade show booth for a client at the American Society of Breast Surgeons (ASBRS) show at the Mirage Hotel. Suffice it to say that the LED video wall was the hit of the show. People approached the client from across the trade show floor to find out where he got it. The client used the LED wall to do a demo, and the picture was so bright and captivating that it drew attention from every corner.
After the show, the client wrote, "Everything has gone amazing! Thanks so much for your team's hard work. I've been passing your name around to people asking about the booth!"
Our client's goal was to communicate their message as effectively as possible to as many trade show attendees as possible. They succeeded.
Benefits of Trade Show LED Walls
Replacing the traditional pipe and drape commonly found at hotel and convention center trade shows with LED video walls is a real attention grabber to say the least. LED walls in trade show booths are also extremely versatile. They can be used as a back wall in large booths at large venues or as a back wall in smaller booths at smaller venues. Wherever they're used, you're sure to be noticed.
Here are three reasons why you should consider using an LED back wall for your next trade show booth:
An LED video back wall can take the place of a plain rental exhibit and transform your trade show booth into a bright, lively, vibrant promotional tool for your brand. Be prepared to draw lots of attention and excitement from attendees.
An LED back wall can be programmed to display picture and picture, eliminating the need to rent a traditional monitor on a stand. As an added bonus, eliminating the monitor on a stand frees up floor space in the booth, improving the flow and giving the space a more open, inviting, cleaner look.
Custom content and graphics can be displayed easily and changed easily, eliminating the need (and the hassle) for custom-printed graphics. Seasoned trade show veterans often swap stories about vinyl-printed graphics that take hours to produce, require stressful last-minute changes, and require additional labor to install. LED walls allow you to control your design and visual identity.
Let's Discuss Your Trade Show Rental Needs
TST is the total show production solution for anyone who hosts, plans, manages, or produces trade shows, conferences, and nightclub live events. Our services include LED walls, video, audio, lighting, staging, labor, laptop rentals, trade show Wi-Fi, and gear rentals.
In the events industry, what you know and who you know are everything. We know the Pacific Southwest, Las Vegas, and all the venues inside and out. In an industry where almost anything can go wrong, we make sure everything goes right.
Reach out to learn about renting our trade show LED walls — and about how we can make your next trade show booth capture attention and help you promote your business.