Event Production Resources
August 4, 2021
/
/
Comments Off

on Event Production Resources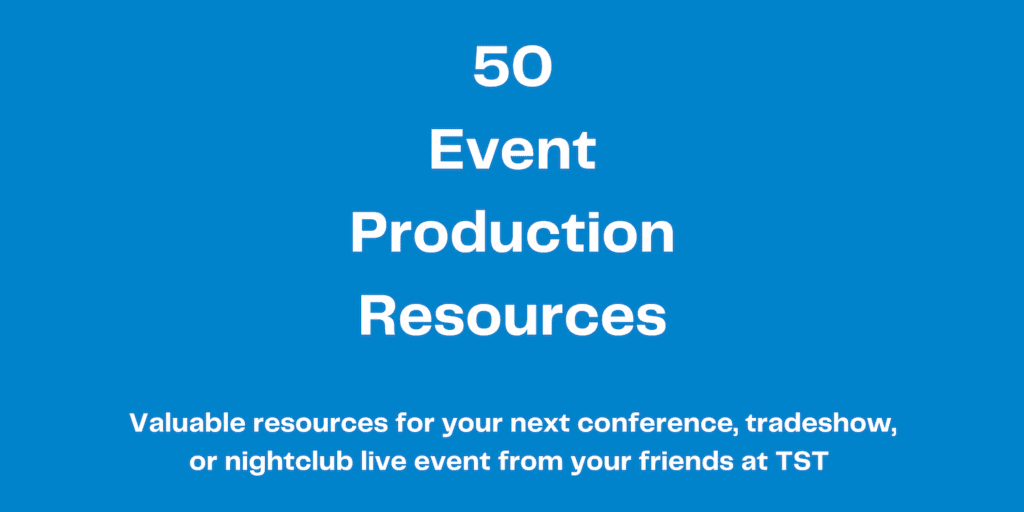 We've compiled 50 valuable event production resources to help you plan your next conference, trade show, or nightclub live event.
Event Production Best Practices
Projection Technology Best Practices
10 Common AV Problems and How to Avoid Them
How to Create Events That Go Off Without a Hitch
How Intelligent AV Design Can Save You Money
3 Kinds of Support You Get from the Best AV Companies
5 Reasons an Independent AV Provider Is Good Business
3 Reasons to Choose a Nationwide Audiovisual Partner
3 Ways to Make Your Exhibit Design Stand Out
Meeting and Event Spaces of the Future
Event Technology Tips and Tricks
5 Apps Every Meeting Planner Needs
Password Management Best Practices
Event Planner Password Security
BeMatrix LEDskin Technology
LEDskin: Reinventing Stand Building Systems
beMatrix LEDskin Innovative Modular LED Display
Event Budgets and Venue Contract Tips
Venue Contract Tips and Tricks
Share Your AV Budget to Right-Size Your Event
Community Partnerships
American Lung Association Breathe Fashion Show
Lutheran Church Charities (LCC) K-9 Comfort Dogs
Driver's Edge – Nonprofit Organization Saves Lives
Client Events and Case Studies
Actifio Data Driven Conference
TST Event Production Resources and Services
TST Is Your Total Show Solution
Audiovisual Consulting and Production
Comprehensive Audiovisual Services
Press and Testimonials
Exhibit City News Profile on TST
What Our Clients Have to Say About TST
Employment, Education, and Training
Audiovisual Technician Program
CTS Certification – InfoComm/AVIXA Credentials
Best AV Technicians in the Industry
Rental & Staging Network (RSN) Membership
Reach Out for More Event Production Resources
TST is the total show production solution for anyone who hosts, plans, manages, or produces meetings, events, and trade shows. Our total show production capabilities include audiovisual design, installation, and live staffing and operation. Our services include video, audio, lighting, rigging, staging, computer services, labor sourcing, and equipment rentals.
In the fast-paced, rapidly changing event industry, what you know and who you know are everything. We know Las Vegas and the Pacific Southwest. We know all the venues inside and out. We know how to navigate challenges because we have the loyal network and connections that open the right doors when it matters most.
In an industry where almost anything can go wrong, we make sure everything goes right.
Reach out for a free consultation or to simply say "hello." We look forward to reconnecting, and, as always, we appreciate the opportunity to serve you. 702-897-8508 | sales@totalshowtech.com