2021 Vegas Events: 3 Production Tips from the Trenches
July 27, 2021
/
/
Comments Off

on 2021 Vegas Events: 3 Production Tips from the Trenches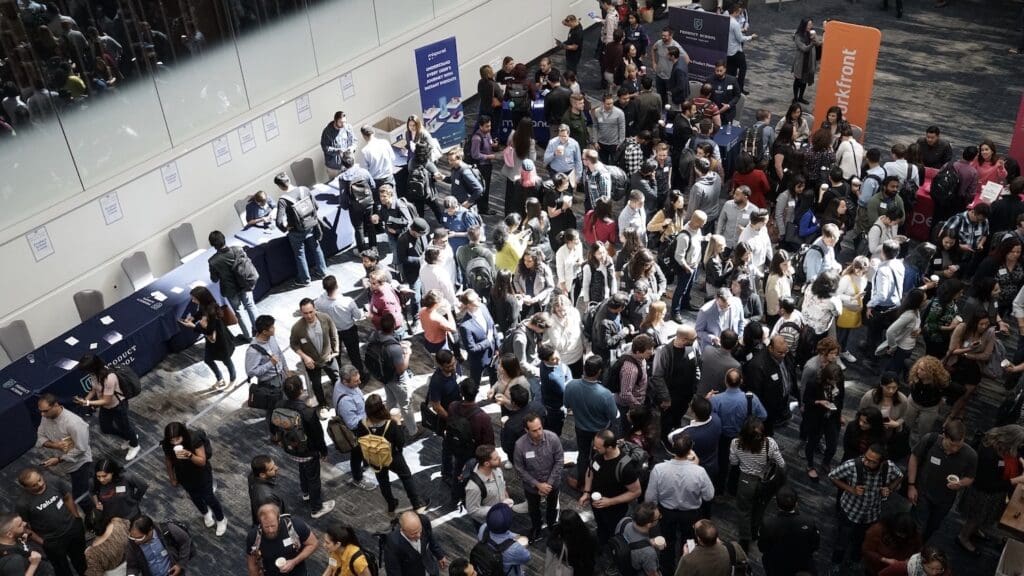 Anyone who's planning 2021 Vegas events should review these 3 important production tips. They'll save you time, frustration, and money.
---
Total Show Technology (TST) has provided production support and technology for trade shows, conferences, and nightclub live events since 1996. A lot has changed over the years, and our ability to adapt to these changes has enabled us to weather the challenges of the past year.
In-person shows are back and better than ever, and we're thrilled to be supporting our clients once again. Now is the ideal time to highlight 3 valuable production tips that will enable you to wow and educate your audience while putting on the best show possible.
Production Tip #1: Only Work with the Best
This tip might seem obvious, but there are a lot of pretenders to the throne out there.
TST has a large inventory high-tech audio, video, and lighting gear, but our success is due to our staff who have the skill to make it work. We take hiring and training seriously, which is why all of our employees participate in ongoing training and education. New employees start as shop assistants and go through a program developed in house and through InfoComm/AVIXA [AVIXA's Certified Technology Specialist (CTS) program is the leading AV professional credential].
We hire only detail-oriented, trustworthy team players who want to build solid careers. The events industry requires hard work and long hours, and we've made it our mission to choose people with the work ethic needed to get the job done right the first time.
Our team is small enough to be nimble and large enough to handle any challenge thrown at them. And we retain the people we hire. I'm proud to say that almost all of the team members that our clients have come to know and love have returned and are ready to provide the exceptional service our clients expect.
Production Tip #2: Choose a Production Partner That Listens
When we talk to meeting planners about 2021 Vegas events, they tell us that they need more AV production guidance and support than ever before. Expectations for in-person events are high, and companies want to turn their trade shows, conferences, and nightclub live events into special experiences that their attendees remember.
We train our people to listen to what our clients are saying – and to share their knowledge of the evolving events' landscape by weighing in. That way, our clients get what they really want and need.
It's our job to preempt client risks and circumvent potential problems. It's also our job to understand our clients' "must haves" and hot buttons, engage in open dialogue, and execute consistently.
Event production shouldn't involve rote response to client requests. Instead, it should involve a conversation about the client's needs to determine what's truly possible within budget. Today's meetings and events need collaborative production partners, not order takers.
Production Tip #3: Right-Size Your Technology and Support
More than anything else, our clients tell us they need AV production technicians who have the expertise required to make their shows go smoothly and reduce their stress.
The amount of production support each client needs depends on what's happening, how fast it's happening, and the goals that client is hoping to achieve. Understaffing can be dangerous; overstaffing can be costly. Choose a partner that won't over-spec or under-spec your shows.
Now that Vegas is open, client goals, venue requirements, and event programs are changing rapidly — literally by the day. In this industry you've got to move fast. TST's smaller size and lack of bureaucracy allow us to make rapid decisions and remain flexible. As just one example, our people are empowered to make decisions and solve problems live on show site.
Our right-sized team covers all video, audio, lighting, and staging needs, providing ample diversification and expertise in each discipline. We stay in the loop from long before each show starts to make it easier to anticipate and avoid problems – and take worry off our clients' plates.
2021 Vegas Events
From the very beginning, TST has been built on a foundation of service. Our clients expect us to show up on time and make sure all equipment is up and running. It's our job to provide behind-the-scenes production support that makes our clients' headaches go away.
The number one question we ask our clients: "How can we help?" We would love to help you, too. Please reach out!
---
About Total Show Technology
TST is the total show production solution for anyone who hosts, plans, manages, or produces events, meetings, and trade shows. We own the Pacific Southwest market and travel with our clients all across the country. Our clients have relied on us to deliver audio, video, lighting, equipment rental, and show production for conventions, corporate meetings and events, and trade shows since 1996.
Whether you're looking for audio visual support or advanced event technologies that enable you to deliver your message effectively, we help your shows go off without a hitch and always make you look good. In an industry where almost anything can go wrong, we make sure everything goes right.
Read the Exhibit City News profile of TST here.
We're currently supporting 2021 Vegas events! Let's have a conversation! Call us at 702-897-8508, email us at sales@totalshowtech.com, or visit www.totalshowtech.com/contact.